Dungeons & Dragons comes to SUUSI!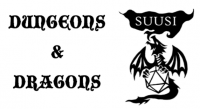 Dungeons & Dragons ( D&D) is a fantasy tabletop role-playing game. In D&D, a Dungeon Master guides a group of players through a fantasy, imagining themselves as characters embarking on fantastic, heroic adventures.
(Think of it as an improv game of make-believe with adults-- and dice.)
Players work together to solve mysteries, fight evil, and become legendary heroes.
D&D is a fabulous way to express creativity, work cooperatively, and develop problem-solving skills-- all while making new friends and having a great time.
We are creating a persistent campaign world for SUUSI. The world of WUURTH will reflect SUUSI values and principles, and even our SUUSI culture.
Characters created and played in WUURTH can advance and continue playing from year to year.
If you are new to D&D, sign up to learn how to play.
Build an official WUURTH character in Pair-A-Dice. Sign up to play this year's WUURTHy Adventures.
910: D&D 4 Beginners (M)

Limit 12

What's Dungeons & Dragons? How do you play? This short workshop will introduce you to the basics of the game and allow you to try it out. No experience necessary. All are welcome. Craig Schwalenberg is a UU minister and a professional Game Master. He is trained in Therapeutic GameMastering. He is the coordinator of Pair-a-Dice.

Registration Details
930: Protect PrideFest Please! (W)

Limit 10

Two years ago, an insulted Leprechaun stole the colors from WUURTH just before PrideFest. Heroes made amends and the colors were returned. Help ensure nothing goes wrong this year. Character Levels 1-2 required. The D&D WUURTH games will be facilitated by trained, experienced Dungeon Masters.

Registration Details

931: D&D 4 Beginners (W)

Limit 12

What's Dungeons & Dragons? How do you play? This short workshop will introduce you to the basics of the game and allow you to try it out. No experience necessary. All are welcome. Craig Schwalenberg is a UU minister and a professional Game Master. He is trained in Therapeutic GameMastering. He is the coordinator of Pair-a-Dice.

Registration Details

932: Kobold Keepers Kidnapped! (W)

Limit 10

D&D - The kobolds that live below the capitol city of WUURTH were added to the citizenry charter two years ago and are now the caretakers of the magic fountain. But now they need help! Someone is snatching kobolds! Character Levels 1-2 required. The D&D WUURTH games will be facilitated by trained, experienced Dungeon Masters.

Registration Details
No matching events