SUUSI's Home: Western Carolina University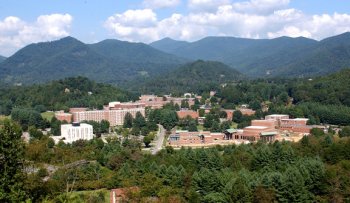 Western Carolina University has been SUUSI's home since 2016. Founded in 1889 as a secondary school for training teachers in western NC, today it is the westernmost campus in the University of North Carolina system. WCU has long seen as integral to its mission both a commitment to the history and traditions of Appalachian culture and also a partnership with the Cherokee Nation, on whose ancestral lands the university is located.
WCU is located on Cullowhee Creek in the Tuckasegee River valley, between the Blue Ridge and the Smoky Mountains. The campus is surrounded by the Nantahala National Forest, and close to the Pisgah National Forest and the Great Smoky Mountains National Park. In part because of this location, WCU has been named the Top Adventure College by Blue Ridge Outdoors magazine four years in a row.
Travel to SUUSI
The WCU campus is in Cullowhee, NC, five miles south of Sylva on NC Route 107. It is a short drive from Asheville, NC (1 hour away), Knoxville, TN (2 hrs), Greenville, SC (2 hrs) and Atlanta, GA (2.5 hrs).
For directions, set your GPS to 1 University Dr, Cullowhee NC 28723. Once you get to campus, there will be signs to guide you to check-in.
Asheville is the closest airport; Atlanta is the closest large airport. If you're looking for a ride or to offer a ride to SUUSI, try posting a message to the SUUSI Friends Facebook group.