Artists Bios 2023
Open Monday - Friday from 9:30 AM - 6:30 PM in the Blue Ridge Conference Center C/D (next to the SUUSI Store), you can find SUUSI's community of artists! Perhaps you need a gift for your pet sitter, a friend at SUUSI, or even yourself!
Meet our artists!
Every year we are so fortunate to have amazing artists offer their work to us at the Artisans bazaar. Here are some of those at SUUSI this year.
Rev. Cynthia Landrum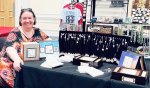 Rev. Cynthia Landrum has been Zentangling for over a decade, but just became an official Certified Zentangle Teacher this April! Her Zentangles have been featured in the UU World, the UUA's Worship Web, and the Church of the Larger Fellowship's periodical ""Quest for Meaning."" This year for the first time, some of her Zentangle pendants feature colorization by her young adult daughter, Cathleen Landrum Larkin.
Lindsay Caddle LaPointe
Lindsay Caddle LaPointe dancer, teacher, choreographer, videographer, an award winning video editor and a fiber artist! Each item is created through an intuitive process. The colors are not always planned ahead of time. The yarn (mostly made from t-shirts) sometimes has a different plan. All the proceeds from this SUUSI table go directly to the WHY ARE YOU YOU? Documentary. (Instagram: @why.are.you.you)
Dawn MacKechnie
Also featured at the table are hand drawn ornaments by one of the executive producers of the project Dawn MacKechnie. Dawn is passionate about finding and sharing relationships within spirituality and the arts (including visual, movement, song and beyond) to deepen her spiritual practices and connect heart, mind, body and spirit. Through this passion she has found a calling to create and share mandalas. (Instagram: @mamadawns_mandalas)"
Tanya Gustafson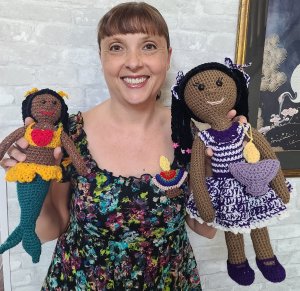 Introducing Tanya Gustafson, "I started crocheting when I was 12 years old. My mom taught me how to crochet on some of our long car rides between Texas and California to visit grandparents. I started out with simple squares but quickly learned the joy of amigurumi, which is the Japanese art of crocheting (or knitting) small stuffed yarn figures.
For SUUSI I have highlighted the chalice - symbol of our UU faith - in my dolls, ornaments and potholders. Come take a look and find something you love!"