Be on Staff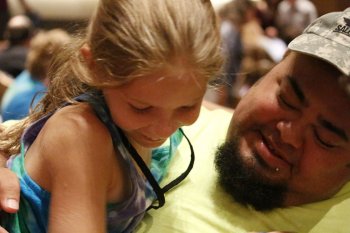 We are always looking for folks to join our SUUSI staff family. While everyone at SUUSI is encouraged to volunteer to help out in some way, SUUSI Staff make a formal commitment to work a set number of hours in one (or more) SUUSI departments. You must apply for a staff position in SOLIS, SUUSI's online information system. Log into SOLIS or create an account at http://solis.suusi.org
What does it mean to be hired as staff?
No one - not even the Director - receives payment for their work at SUUSI. That's why you'll often hear people say that SUUSI has an "all volunteer staff." Staffers work in exchange for credit toward their SUUSI fees. A full-time staffer (40 hours) receives credit that covers the full cost of registration, meals, and housing. Staffers who work part-time receive proportional credit. Workshops and trips can not be paid for with staff credit.
Although SUUSI staff tends to fill up quickly, some positions are still available for this year. To apply for a staff position, log into or create your SOLIS account at solis.suusi.org and click on "Apply for SUUSI Staff."
Current Staff Openings: General
Techies:
Seeking tech-savvy folk to help with the broadcasting of our worship services and concert hours. Camera operators, Zoom hosts, and other tech assistance welcome. For general information, contact
services@suusi.org
. To learn more about worship needs, contact
nurture@suusi.org
. To learn more about concert hour needs, contact
nightlife@suusi.org
.
Ushers:
Seeking volunteers to help as ushers for Ingathering and our morning/evening worship services. You'll help with seating, checking for masks, and greeting. For more information, contact
nurture@suusi.org
.
Move In/Move Out Staff: Do you like greeting and directing people? Are you going to be at SUUSI early, without an official (volunteer) job? Are your plans flexible enough that you can stick around Saturday at the end of SUUSI? If the answer to more than one of these is yes, we would love your help with Move In staff, to direct people and keep an eye on their things during move in (and out) of SUUSI.
Community Time Staff: We need help to make Community Time happen this year. All types of activities are being planned, from crafts to music and community games, and we welcome your ideas as well as assistance. If you are free most afternoons (roughly 3:30-6:30) and want to help make this inter-generational carnival of fun happen, please put in an application to join us.
BBQuusi Staff: Are you a night owl? Do you love cooking? BBQUUSI Staff could be just the place for you! We need people to join our staff of late-night cooks and help grill and serve food to the masses after other activities wind down. Some help is needed during the day, but mostly after 11pm. Please apply if you're up to help make the party happen.
Equipment staff: SUUSI Equipment staff (a team of 9) work mostly before and after SUUSI to move all the SUUSI supplies from a local storage unit and distribute it to the various parts of campus and then put them all back again. They show up before anyone else on the Thursday night before SUUSI and work all day Friday, Saturday and part of Sunday to unpack, then at the end of SUUSI a few hours Friday afternoon and all day Saturday to pack up and then bring the equipment back to the storage unit. Each staff person will have a shift during the week where they will be on-call to respond to last-minute equipment requests and/or move some stuff around as needed. Because the equipment staff needs "all hands on deck" Friday-Sunday before and Friday-Saturday after SUUSI, you generally need to be there the whole time and earn a full X (your entire SUUSI registration and meals cost covered). Requires the ability to move storage totes that could be kind of heavy, a tolerance for heat and getting a little sweaty (OK, maybe a lot sweaty, but Gatorade will be provided), desire for camaraderie and a good sense of humor.
NUUS Staff: Help keep SUUSI informed and entertained by producing the daily online and print versions of the NUUS. We're looking for people with a clear, warm writing style, good organizational skills, and strong editing abilities.
Current Staff Openings: Intergenerational
**Please be aware that all staff working with young people under the age of 18 must pass a criminal background check and must be up-to-date on their MMR and DTap vaccinations.
Background check coordinator: In this role you will work directly with the intergenerational staff director to oversee the completion and verification of background checks for a variety of departments. If you are very organized and are able to answer emails promptly this will be a great staff position for you. Some additional clerical duties for the intergenerational programs may come up that you could be asked to help with as well.
Youth Staff:
Nursery-3: All the cuddles, all the walks, some of the crying, dirty diapers, and tip-toeing away from naps… just some of the things you can expect working with this amazing age group. You will never be alone with a child, as we keep the ratio of 2-2 in this age-range. These kids will need to be kept busy and entertained throughout programming.
4-5: These kids are so much fun to work with! Some of them have had preschool experience, but not all of them, and that's okay! You will have the opportunity to do music and arts & crafts with them, both through the coordinated SUUSI programming events and within your own classroom. Taking them outdoors when the weather permits is always a great option, as there is so much energy to spare! Sharing the UU Principles through songs and art is great as well. And they love storytime!
6-10: These ages are different, but for programming's sake, we lump them together for the job description because they get to participate in afternoon workshops. In the morning, our hope is that you will introduce them to the UU Principles through songs and art. We will have scheduled arts & crafts and music time for all ages. In the afternoons, kids will participate in various workshops that they will have signed up for in advance. Staff will be divided amongst the workshops based on participation (and interest as much as possible!).
*There is also daily worship that comes to us. All Youth now also have the option to stay at programming for lunch, so schedules will overlap to give staff the opportunity to have lunch or eat lunch with Youth.
Youth Workshop Leaders/ Nature trip chaperones: These are positions available to add hours to existing staff positions for additional staff credit. Please see the catalog to review the types of workshops and nature trips this role would help facilitate.
Middlers Staff:
The Middlers Program is for kids 11-13. As a transition between youth programming and the teen dorm, Middlers have more responsibility for planning their days and experiences and more freedom. We spend time making art projects, playing games inside and out, on Nature trips with the group and other activities. This year we will also be eating lunch together as a group.
Age group leaders:11s and 12s - Full time positions
Hours include pre-Suusi planning and all shifts M-F 8:45-12 and 1:45 - 4
With Middler Director plan program and activities for your age group
Coordinate responsibilities with your age group staff
Bring any problems/concerns to Middler director
Engage with the Middlers and have fun - games, Nature trips, workshops
Age group Staff: 11s and 12s. ¾ time positions
Engage in activities with the Middlers
Bring creative ideas for workshops/options
Assist age group leaders
Hours: M-F 9-12 and 2-4. 1 day supervise lunch for middlers, middlers dance
13s Age group leader: Full time position
Same as all Age Group Leaders
Lead coming of age program for 13s, holding that this a big transition time
Coordinate with Middler Directors and teen staff to create programming
13s parent meeting sunday (with middler directors)
Some evening hours, including Friday night (coming of age, TWOB, CACHE); monday night (special art project)
13s age group staff- ¾ - Full time
Contribute to 13's Coming of Age program
Some evening hours
Engage in activities with the Middlers
Bring creative ideas for workshops/options
Assist age group leaders
Hours: M-F 9-12 and 2-4. 1 day supervise lunch for middlers, middlers dance
Middlers Art Director: ¾ time max (negotiable)
Design craft projects for age groups (11s & 12s)
Lead 13s in special coming of age project - one evening shift
Hold open studio time during programming & options for kids to work independently
Responsible for bringing supplemental art materials (using middler's budget)
Teen Staff:
Teen Leader Liaison (adult position)
communicate with Teen Leaders before, during, and after SUUSI
provide training Pre-SUUSI to prepare Teen Leaders
meet with Teen Leaders daily before Touch Groups to discuss issues and plan activities for Touch Groups
Assist Teen Leaders in planning Teen Meetings (Intimacy Chat, Coffeehouse, Angel Walk, Car Wash, etc.)
promote Teen Leader position during SUUSI to solicit nominations / applications for following year
Teen Leader (position open to teens aged 14-17)
lead Touch Groups with adult staffer
lead Teen Meetings (with Teen Directors and Chaplain)
lead or assist with workshops
serve as liaison between adult staff and teens on specific issues or events
communicate issues among the teens with the adult staff
model UU behaviors for other teens
Adult Teen Staff
interact with teens during shift (shifts are scheduled around the clock for 2-10 hours; staff will receive credit for up to 1.5 hours for every hour worked from 12-7am)
lead or assist with workshops or teen activities
assist with Touch Groups
attend Teen Meetings or events (if on shift)
monitor entrance to "Teen Dorm" only allowing Teens or Teen staff into dorm; all other SUUSI participants including parents, Core Staff and Board members must be escorted by an adult teen staffer
hold teens accountable to the Teen Rules and report situations to Teen Directors
model UU behaviors for teens
conduct rounds of building inside and outside at least once per hour to maintain safety of teens and report issues to shift leader or Teen Directors