Family
SUUSI is intentionally family friendly, with a wide variety of activities for children of all ages and their parents. Many families meet up at SUUSI with grandparents or cousins for a wonderful multigenerational family vacation. Children aged 0-13 usually spend part of every day in age-group programming and part of the day with their family. Teens (aged 14-17) and Young Adults (aged 18-25) commonly spend the majority of their time living in community with their peers. However, young people of any age may meet up with their families for a nature trip, sports or game activity, worship service, or musical event.
Family Activities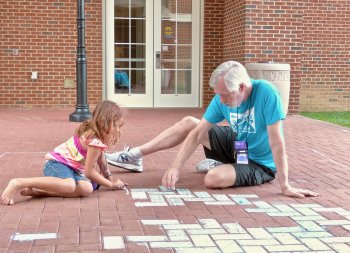 For families with children, Community Time is often the centerpiece of their day. Community Time happens Monday through Friday, outside on the lawn. After your children have spent the day in age-group programming, hang out with them at Community Time to participate in crafts, music, games, and conversation together. A favorite Community Time activity for many kids is splashing in the big WCU fountain. Learn more about Community Time here.
Other well-loved SUUSI traditions for families include Family Movie Night and evening dances for Youth (0-10) and Middlers (11-13).
Many families enjoy signing up for a nature trip with their children. A list of family-friendly nature trips can be found in the catalog. Sports & Games activities are another great outlet for family togetherness. Enjoy the sports equipment at Community Time or play a board game in Pair-a-Dice! Children 12 and under must be accompanied to Pair-a-Dice by a registered adult. In the evening, your children might like to accompany you to Concert Hour.
Family Housing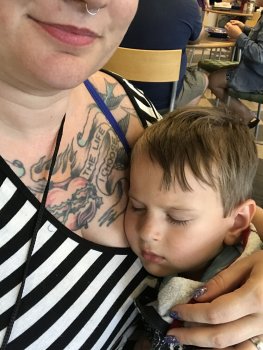 Families with children aged 0-13 are housed together in either the Childcare Co-op Dorm or the Family Dorm. You will be invited to select one of these options when you register. You have the option of having up to two children sleep on the floor of your room in order to save on housing expenses. Please note that you will be responsible for providing all bedding (including an air mattress, pillows, etc.) for children sleeping on the floor.
The Childcare Cooperative (Co-op) program provides participating parents/guardians with shared nighttime supervision of their children (ages 0-13) throughout the week of SUUSI. In years past, each parent/guardian has contributed approximately 2 hours of supervision in the co-op; this depends on the number of adult participants. In return, parents/guardians are able to enjoy approximately 25 hours of free time to participate in SUUSI Nightlife programming, barring any issues with their children. If you have any questions, please email childcareco-op@suusi.org.
Families who do not wish to participate in the co-op should choose Family (non co-op) housing when registering. Family non co-op housing does not offer shared supervision of children. Per SUUSI policy, all minors must be appropriately supervised by an adult at all times, even at night and while asleep. Thus, the Family Dorm is best suited for parents who don't want to go out at night or are willing to take turns doing so.
Family Policies
Where Are Your Children?
By attending SUUSI, all parents/guardians, Youth and Middlers agree to the SUUSI Rules, which states that children between the ages of 0-13 must be appropriately supervised at all times, including at night while asleep. The Youth and Middler staffs love to watch your children during programming hours, but please remember it is your responsibility during non-programming hours. It is common and acceptable for SUUSI families to share supervision informally. For example, you might send your child to dinner with a friend's family, or one parent might volunteer to sit in a lounge with a group of Middlers playing a game. However, the curfew for children ages 0-13 runs from 9:30pm-6am. Children who are out of their rooms after curfew must be with their own parent or guardian.
Where Are Your Parents/Guardians?
Be sure to post your schedule and cell phone number on your dorm room door, so we can always find you. If parents/guardians need to leave campus, an adult guardian must be designated, as we must always have an on- campus adult contact for each Youth and Middler (ages 0-13). If you are going to be off campus, also post the alternate adult guardian's contact information on your door and notify your child's staff.
Age Verification
Everyone under 26 who has not previously had their age confirmed by SUUSI, must provide a legible copy of a birth certificate, driver's license or passport to the Registrar. Send a copy via US Mail, or scan and send it via e-mail to registration@suusi.org. No one is allowed to participate in Youth or Middler programming without age verification. See the catalog for more information.