Middlers (11-13)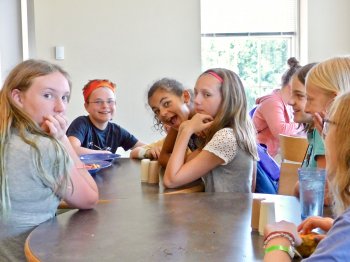 The Middler Program recognizes the unique needs and abilities of youth ages 11 to 13. This age group is moving away from childhood and toward adolescence, with all the rights, privileges and responsibilities that that entails.
During our SUUSI week, we will create space and opportunities for each 11, 12, and 13 year-old to build community within their age group, with the Middlers as a whole, and with the larger SUUSI community. We will be looking at ways our UU principles and personal values shape our actions, and each child will meet with a small group within their age group on a daily basis (much like touch groups in the Teen program) to help ensure that each Middler has a rich SUUSI experience.
Middlers will enjoy a variety of activities, workshops, and trips. Each age group will have a unique art project that they will work on throughout the week. There will be a nature trip for the entire group as well as individual trips for each age group. There is no need to sign up separately for these trips; they are included when you register. Each child will be encouraged to pursue activities during SUUSI that will create a meaningful and fun experience.
Middler workshops are a time to be creative, make our own fun, and interact as a community. Every day we will have options such as outdoor sports, water games, indoor games, art, music and more. Unlike the Youth program, you will not need to sign up beforehand for most workshops.
Mandatory Meeting for All Middler Parents & 13 Year-Olds
We will have a mandatory meeting for all Middler parents and 13 year-olds on Sunday at 5pm.
This is an opportunity to hear more about the Middler program, get questions answered, and meet some of the staff working with your youth during the week. Please see this important information for all parents of Youth and Middlers on expectations for children and parents at SUUSI.
Middler Program Daily Schedule
Morning Programming 8:45am-noon
Afternoon Programming 2-4pm
Evening Programming 13 year-olds only, see information on Coming of Age Program.
Middlers may sign themselves in and out of programming with guardian permission. However, parents/guardians must make in-person contact with their child's age group leader each morning at morning check-in.
Special Events of Note
Dance Party for Middlers – Wednesday 7-9pm. The Middlers program will staff the event but we would love some parent chaperones!
Closing Circle – Friday 2:15pm. Parents and friends are invited and encouraged to attend!
SUUSI Middler Staff
Our Middler staff has a wide variety of experience working with youth, and we are very excited to have each of them as part of this program. We all look forward to working with your children this year. Our emphasis will be on safety first, followed closely by fostering independence, community building, and, of course, fun. We have planned a lot of fabulous activities for the program, which we hope will help your children have a wonderful experience.
We'd love for you to work with Middlers this year! If you're interested in joining our staff, please fill out an application in SOLIS or contact us for more information.
Questions? Prior to SUUSI, email us at middlers@suusi.org.
Event #
Event
Type
Date & Time
Age Range
Sunday 16th July 2023

Middler Parent Meeting


Parent Meeting
Location: Forsyth 305

Price: FREE
Middlers
Sun 5-6pm
11+
Monday 17th July 2023

49

Middler Ingathering (cancelled)



Location: Forsyth 305

Price: FREE Registration Details
Middlers
M 9-10:15am
11-13

Middler programming


Middlers
Location: Forsyth Middler rooms 301, 302, 304, 314 & 329

Price: FREE
Middlers
M 9am-Noon, Tu 9am-Noon, W 9am-Noon, Th 9am-Noon, F 9am-Noon, M 2-4pm, Tu 2-4pm, W 2-4pm, Th 2-4pm,
11-13

40

13s Bonding Trip


This all-day trip is the 13s Bonding Trip and is an integral part of their extraordinary week that culminates in their Coming of Age Ceremony Friday night. Plan for a short but possible moderately strenuous hike, water fun, lunch, and a great day. You will need the correct footwear (See Shoe Requirements), drinking water, glasses strap (if you wear glasses), swimsuit, sunscreen, dry clothes, and a towel. Drive Time: 70 mins one way.
Location: Forsyth Middler rooms 301, 302, 304, 314 & 329

Price: FREE Registration Details
Middlers
M 10am-4:30pm
13

Middler programming


Middlers
Location: Forsyth Middler rooms 301, 302, 304, 314 & 329

Price: FREE
Middlers
M 9am-Noon, Tu 9am-Noon, W 9am-Noon, Th 9am-Noon, F 9am-Noon, M 2-4pm, Tu 2-4pm, W 2-4pm, Th 2-4pm,
11-13

13s Art time



Location: Bardo Art Center 150

Price: FREE
Middlers
M 7-9pm, Tu 9:45-10:45am, and W 9:45-10:45am
13

45

13s Evening Programming


13s will gather to explore life outside of Middlers day programming.
Location: Tent outside on the quad side of Blue Ridge

Price: FREE Registration Details
Middlers
TuM 7-8:30pm
13
Tuesday 18th July 2023

42

Messing with Boats


Let's go paddle - choose your favorite boat and paddle upstream on the Little Tennessee River and then float back down. Our Nature staff instructors will teach you how to have a safe paddling experience while you learn about boats and how to paddle them. Don't forget your towel and sunscreen! Drive Time: 45 mins one way.
Location: Nature Tent (outside near Blue Ridge 102)

Price: FREE Registration Details
Middlers
Tu 8:30am-12:30pm
12

Middler programming


Middlers
Location: Forsyth Middler rooms 301, 302, 304, 314 & 329

Price: FREE
Middlers
M 9am-Noon, Tu 9am-Noon, W 9am-Noon, Th 9am-Noon, F 9am-Noon, M 2-4pm, Tu 2-4pm, W 2-4pm, Th 2-4pm,
11-13

13s Art time



Location: Bardo Art Center 150

Price: FREE
Middlers
M 7-9pm, Tu 9:45-10:45am, and W 9:45-10:45am
13

47

11s Foraging at WCU


Okay 11s, who's ready to forage? Jenni Sanders is going to lead you on a walk on WCU's campus and introduce you to the world of foraging. What can you find that is safe for consumption? How will you know? Wear comfortable walking shoes and clothes as you may get off the beaten path.
Location: Quad between Forsyth and Killian

Price: FREE Registration Details
Middlers
Tu 11am-Noon
11

43

Middler Pool Time


Middlers, do you want some pool time? Join us in the pool to practice your butterfly and frogstroke, I mean, breaststroke. You can choose this as your afternoon option.
Location: Campus Rec Reid Pool

Price: FREE Registration Details
Middlers
Tu 1-3pm
11-13

Middler programming


Middlers
Location: Forsyth Middler rooms 301, 302, 304, 314 & 329

Price: FREE
Middlers
M 9am-Noon, Tu 9am-Noon, W 9am-Noon, Th 9am-Noon, F 9am-Noon, M 2-4pm, Tu 2-4pm, W 2-4pm, Th 2-4pm,
11-13

45

13s Evening Programming


13s will gather to explore life outside of Middlers day programming.
Location: Tent outside on the quad side of Blue Ridge

Price: FREE Registration Details
Middlers
TuM 7-8:30pm
13
Wednesday 19th July 2023

Middler programming


Middlers
Location: Forsyth Middler rooms 301, 302, 304, 314 & 329

Price: FREE
Middlers
M 9am-Noon, Tu 9am-Noon, W 9am-Noon, Th 9am-Noon, F 9am-Noon, M 2-4pm, Tu 2-4pm, W 2-4pm, Th 2-4pm,
11-13

13s Art time



Location: Bardo Art Center 150

Price: FREE
Middlers
M 7-9pm, Tu 9:45-10:45am, and W 9:45-10:45am
13

48

Middlers Tie Dye


Middlers, here's your chance to tie dye. Bring one 100% cotton item to dye. No towels, sheets or other large items that will soak up too much dye.
Location: Hillside Grind Lawn

Price: FREE Registration Details
Middlers
W 10am-Noon
11-13

Middler programming


Middlers
Location: Forsyth Middler rooms 301, 302, 304, 314 & 329

Price: FREE
Middlers
M 9am-Noon, Tu 9am-Noon, W 9am-Noon, Th 9am-Noon, F 9am-Noon, M 2-4pm, Tu 2-4pm, W 2-4pm, Th 2-4pm,
11-13

44

Middler Dance


Mid-week and it is time to dance! Here's your chance to dance in the same spot as the teens. Want to hear a specific song? Send your song requests to middlers@suusi.org before SUUSI so the DJs can put together a playlist just for you.
Location: Balsam Blue Ridge Crossover Lounge

Price: FREE Registration Details
Middlers
W 7-9pm
10-13
Thursday 20th July 2023

41

Glenville Lake for Middlers


This half-day trip is open to all Middlers. Be prepared for a fun-filled morning exploring nature, swimming, and enjoying snacks. Drive Time: 30 mins one way.
Location: Forsyth 305

Price: FREE Registration Details
Middlers
Th 9am-1:30pm
11-13

Middler programming


Middlers
Location: Forsyth Middler rooms 301, 302, 304, 314 & 329

Price: FREE
Middlers
M 9am-Noon, Tu 9am-Noon, W 9am-Noon, Th 9am-Noon, F 9am-Noon, M 2-4pm, Tu 2-4pm, W 2-4pm, Th 2-4pm,
11-13

Middler programming


Middlers
Location: Forsyth Middler rooms 301, 302, 304, 314 & 329

Price: FREE
Middlers
M 9am-Noon, Tu 9am-Noon, W 9am-Noon, Th 9am-Noon, F 9am-Noon, M 2-4pm, Tu 2-4pm, W 2-4pm, Th 2-4pm,
11-13
Friday 21st July 2023

Middler programming


Middlers
Location: Forsyth Middler rooms 301, 302, 304, 314 & 329

Price: FREE
Middlers
M 9am-Noon, Tu 9am-Noon, W 9am-Noon, Th 9am-Noon, F 9am-Noon, M 2-4pm, Tu 2-4pm, W 2-4pm, Th 2-4pm,
11-13

Middler programming


Middlers
Location: Forsyth Middler rooms 301, 302, 304, 314 & 329

Price: FREE
Middlers
M 9am-Noon, Tu 9am-Noon, W 9am-Noon, Th 9am-Noon, F 9am-Noon, M 2-4pm, Tu 2-4pm, W 2-4pm, Th 2-4pm,
11-13

50

Middlers Closing Circle


Let's close out our week with entertainment provided by the 11s, 12s and 13s.
Location: Quad between Forsyth and Killian

Price: FREE Registration Details
Middlers
F 2:15-3pm
11-13

46

13s Evening Programming


13s will gather for Coming of Age Ceremony and other end of week activities. Parents, guardians and families of 13s are invited for the first hour for the Ceremony and then 13s will go with teens and their age group leaders for the remainder of the evening.
Location: Quad between Forsyth and Killian

Price: FREE Registration Details
Middlers
F 6:45-11:45pm
13