Pair-A-Dice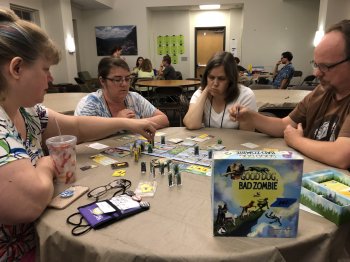 Pair-A-Dice is SUUSI's dedicated table-top gaming space for all ages! Sit down at a table and play a game with old friends or meet some new ones. Check out a favorite game from the lending library and return it to your room to play. Staff and volunteers can recommend (and sometimes teach) games for all ages, group sizes, and gaming familiarity levels. If you're into word and logic puzzles, we'll also have daily challenges to solve.
PAIR - A - DICE HOURS
SUNDAY
Game Drop-Off 3 pm - 5 pm
Come check us out! You can register at Pair-a-Dice with cash, at the nearby SUUSI office, or on the app anytime. Just five dollars (free for those over 14) gets you a whole week of game privileges.
MONDAY - THURSDAY
Pair-a-Dice is open as a lounge at all times. Please be respectful of this shared use.
Two rooms are available for gaming, a larger, more boisterous room and a smaller one for quiet play.
FRIDAY
Return borrowed games by Friday at 5 p.m.
PAIR-A-DICE @ SUUSI Store
We hope to partner with a local game store to again provide games for sale in the SUUSI Store.
GAME LENDING LIBRARY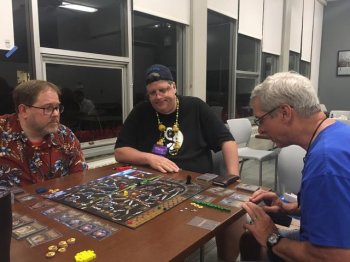 Generous SUUSI gamers lend over 150 of their games to the Pair-A-Dice library for people to check out. If you would like to loan games, please email your list to games@SUUSI.org.
Drop off your games for the library on Sunday from 3p - 5p or any time Pair-A-Dice is open.
YOU MUST BE REGISTERED TO USE THE LIBRARY.
Return borrowed games by Friday at 5 p.m.
Dungeons and Dragons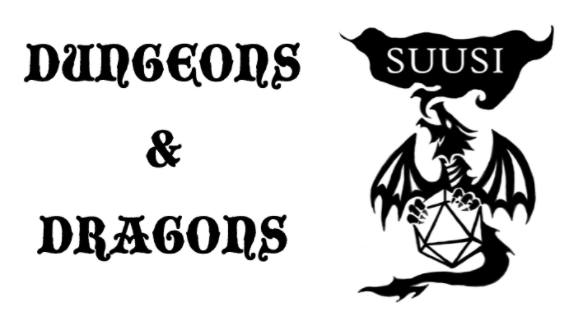 The SUUSI gaming community has collaboratively created the world of WUURTH, a typical fantasy land with one important difference. About a decade ago, the various peoples and races in WUURTH came together and crafted a charter. The Charter of WUURTH grants full and equal rights to all who have signed it. Each group that has signed it has been granted a representative on the Council of WUURTH, the ruling council of the land. Because of this charter, the realm of WUURTH is much more diverse than most others in the surrounding lands. The city of WUURTH is large and sprawling with a grand central public square. In the middle of that square is a magical fountain that sprays high into the air (sound familiar?).
Each year's adventures in WUURTH shape the world and provide inspiration for the following year's settings, so it's fun to come back year after year. But it's always a good time to join and step into our world of dragons and kobolds and gnomes and enchanted armor. If you're interested in helping to craft or lead this programming, email games@suusi.org.