Board of Trustees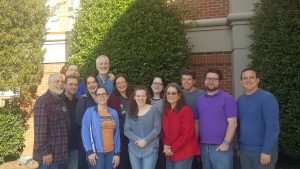 SUUSI is governed by a Board of Trustees. It is the Board's responsibility to safeguard SUUSI's financial health, and to plan for SUUSI's future, and to make policies ensuring that SUUSI fulfills its mission. Members of the Board serve three-year terms. Each year at SUUSI, one adult Board representative is elected by the adult participants of SUUSI, and one teen Board representative is elected by participants aged 6-17. Two other adult representatives are appointed each year by the Board.


The current Board of Trustees:
Wilson Farrell, President president@suusi.org
Angel Wall, Vice President vice-president@suusi.org
Derrick Peavy, Treasurer treasurer@suusi.org
Maggie Kramer, Secretary and Junior Youth Rep maggie.kramer@SUUSI.org
Marina De Moraes, Senior Youth Rep marina.demoraes@suusi.org
Jay Camp jay.camp@suusi.org
Kim Breivogel kim.breivogel@suusi.org
Kimi Riegel kimi.riegel@suusi.org
Karen Gonzalez karen.gonzalez@suusi.org
Kimber Dudley kimber.dudley@suusi.org
Elizabeth Cameron elizabeth.cameron@suusi.org
Amy Davis, Director (ex-officio) director@suusi.org
Jennifer Sanders, Director Emeritus (ex-officio) director-emeritus@suusi.org
The bylaws and policies which govern SUUSI are linked below.
SUUSI Policy 2020-11-21 (PDF)
SUUSI Bylaws 2020-05-12 (PDF)
SUUSI Core Staff and Key Contacts
Joining the Board of Trustees
If you'd like to give back to our beloved SUUSI community throughout the year, consider serving on the Board. Two adults are appointed by the Board of Trustees, and one adult and one teen are elected at each SUUSI.
Nominations must be submitted to elections@suusi.org by noon on Tuesday, July 20, 2021. Nominees must also submit a candidate introduction to the SUUSI NUUS (nuus@suusi.org) by 1pm the same day. Consider attending the Board Forum on Wednesday, July 21st, 2021, 6-7pm to learn more about service on the SUUSI Board or serving as a staff member.
You may nominate yourself or someone else. If you nominate someone else, make sure they agree to serve.
Adult candidates must have attended at least three full SUUSIs in the last five years, and Youth candidates must have attended two of the last three full SUUSIs. (The present one doesn't count.)
At the time of the election, Youth candidates must be between 15-17 years old and Adult candidates must be at least 18 years old.
Board members must affirm the Seven Principles of the UUA and the religious purpose of SUUSI.
Event #
Event
Type
Date & Time
Age Range
Wednesday 21st July 2021

SUUSI Board Election Adult Forum


Price: FREE
Board
W 6-7pm
14+
Thursday 22nd July 2021

SUUSI Board Voting


Price: FREE
Board
Th 7am-7pm
14+