Adults (21+)
Sometimes adults who have recently heard about SUUSI look at our extensive array of age-specific programs for the under-25's and wonder whether SUUSI has anything to offer the mature individual. If we're not a family with young children, they ask, will we fit in?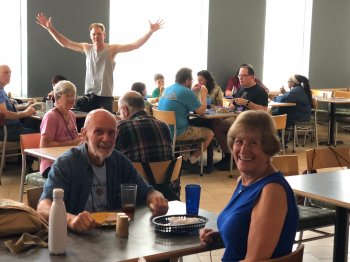 In fact, in a recent survey, SUUSI attendees without children outnumbered those with children, and self-described senior citizens represented 15% of the SUUSI population. If you're a childless adult, or your child-rearing days are behind you, you'll find plenty of similar company at SUUSI.
Check out the "By Interest" menu to learn about all the options before you: Nature trips, workshops, sports & games activities, worship services, late-night dancing, and all the music you could possibly want! Everyone's SUUSI looks a little different – you can custom-design your own experience to look just the way you want it.
New this year, we have added two opportunities for adults to make closer connections with a smaller group of people. Whether this will be your first SUUSI or your thirty-first, we encourage you to consider these options. You'll be able to register for them using workshops #1080 - 1084.
Connection Circles
For years, our teens have been organized into small "touch groups" they commit to touch base with daily, providing a stronger sense of community connection. Like touch groups for adults, Connection Circles will help ensure that no one of any age feels lost in the larger SUUSI community. Sign up for FREE Workshop #1081-1082, and we will send you a survey so that we can group people based on shared interests and preferences. After an initial kickoff party at Community Time on Monday, your group will set your own time for daily meetings. SUUSI will provide optional, self-directed materials to help guide conversation, as well as suggestions about activities you can attend together. A second party at the end of the week will wrap up the experience.
Intentional Community Housing
You may request to live in a small-group housing block with people who are committed to making new connections with their housing neighbors. Sign up for FREE Workshop #1083, and we will send out a questionnaire that will help us group people based on shared interests and living preferences. We'll host a party for the housing groups at Community Time on Monday, and your group will also have the option to request SUUSI funds to host an activity that's open to the general community of adults.
For years, SUUSI has allowed participants to self-select their own informal housing groups by listing a group name at registration. We have also had some semi-formal groups, such as Nature Staff housing or Music Row for our performing musicians. If you are happily established with a housing group, continue as ever - there is no need to register for Intentional Community Housing. This program is designed to help people who do not already have a housing group develop closer connections to their dorm neighbors.