Medians (Over 21)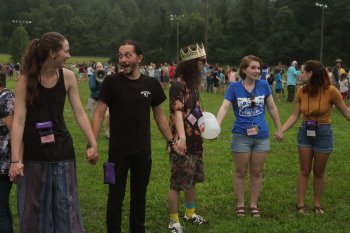 Do you feel out of place with the Young Adults? Feel like the general adult population isn't the place for you either? Come hang out with the Medians!
The Median program is an age-inclusive extension of the Young Adult program. It is a space for people ages 21 and up who root their SUUSI experience in fellowship and shared experiences. It provides more extensive programming for adults and a sub-community where deeper relationships can be formed.
The Median program is open to and inclusive of any adults who want to create an intentional community at SUUSI. You can join the Median community by signing up to live in Median housing or by registering for the non-residential Median program option #1047. This helps us communicate our schedule with you as it develops throughout the week of SUUSI. If you sign up for either of these options, you will receive an email about the Median town hall meeting that everyone should attend on Sunday night. Participation in Median spaces, social events, workshops, and worship services is open to everyone who feels like they belong with us!
Activities
There may be workshops and nature trips that are tagged as Median-led or Median-friendly. If you would like to participate in any of them, we encourage you to plan ahead and register so we know what folx are most interested in and prepare accordingly. We also have less formal activities, including games, relationship building, and worship. Much programming goes on late into the night to accommodate the many Medians who are night owls. When you arrive at Check-In, stop by the Median table and see all we have to offer or suggest an activity that you'd like to host during the week.
Housing
Medians will have their own section of an adult SUUSI dorm, near but separate from Young Adult housing. If you want to live in the Median space on campus, be certain to indicate Median housing when registering. If you cannot live in the Median space (for example, if you have a child), you may still participate in the Median program by registering for the non-residential Median program option #1047.
Online Connections
The SUUSI Median community is active year-round on Facebook, with a closed group specifically for registered Medians or YAs only. If you would like to be invited, please email medians@suusi.org.
We also have a mailing list, which is the best way to find out important info. To sign up, go to: bit.ly/SUUSIMedianMail or just email medians@suusi.org.