Fast 2023 Facts for Potential Participants
2024 dates and information will be published soon!
Key dates for 2023
SUUSI will be held from July 16-22, 2023 with the theme "Turn Our World Around."
Catalog is live March 16, 2023.
Online registation opens April 15, 2023 via SOLIS. Accounts on SOLIS can be created at any time.
Early bird registration ended May 15, 2023
Pre-SUUSI registration ended June 9, 2023.
Anyone can register onsite starting Sunday July 16, 2023
Check-in is from 10 AM - 5 PM on Sunday, July 17, in the Bardo Performing Arts Center. Arrive by 4pm.
2023 Catalog
Our 2023 catalog is fully online. Spend some time clicking through the menus to find out what is being offered by various SUUSI departments. You can view by date and filter by interests.
Because of its virtual nature, Core Staff provide updates and additions up to and during SUUSI via our SUUSI management platform, SOLIS. All changes made in SOLIS are automatically pulled into the public SUUSI catalog.
If you'd like to receive periodic updates about SUUSI 2023 please use the NUUS sign-up form.
Detailed Info for Newcomers (and people who haven't been to
SUUSI

for a long time)

You've decided to come to SUUSI! We're so happy to hear it.

SUUSI is offered both IN PERSON at WCU and Virtual. See more information below on the virtual SUUSI option.

The SUUSI catalog is normally released in early- to mid-March. Online registration usually begins around April 1 and continues until one month before SUUSI starts. We recommend signing up for our mailing list so you'll receive notice of the specific dates for this year.

If those dates haven't arrived yet, you might still find it helpful to look over the instructions below & review last year's catalog. Or just poke around on the website and get a better idea of what SUUSI is like. Sign up for SUUSI NUUS to keep up to date. Come back in the spring and we'll get you signed up!
Virtual SUUSI option
Can't attend SUUSI in person? Registering for virtual SUUSI gives you access to morning and evening worship, concert hours, and TWOB. Registration for virtual SUUSI will open on May 16, 2023 once Early Bird Registration ends.
Planning Your SUUSI
Our catalog has a fully virtual format. There's no PDF to download and print. Instead, the SUUSI website will be packed with up-to-date information about SUUSI 2023 programs and events. Spend some time clicking through the menus to find out what is being offered by various SUUSI departments.
This virtual catalog format allows us to be flexible, adding new events as they become available and fine-tuning details like specific times and participants. Make sure you check back for new additions and announcements! They will be listed on the home page and publicized through our usual channels, like the NUUS and SUUSI's Facebook page.
On the Catalog of Events page, a drop-down menu will allow you to search by the particular type of activity you're looking for, such as Nightlife or Teens. You can also use keywords or event numbers. Or search the Events by Day page to see everything planned for, say, Wednesday.
See this example from 2022's catalog: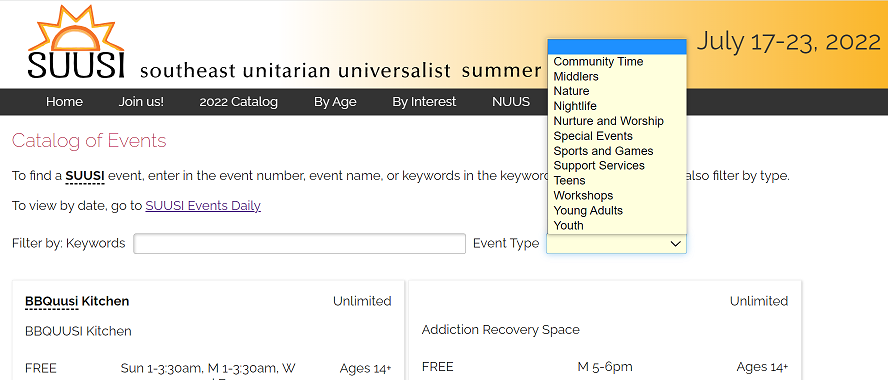 On each of the programming pages, we also list specific events associated with that topic. For example, the BBQuusi page lists all the BBQuusi events in the catalog. When registration opens, you will be able to use the "registration details" button to go into SOLIS (you will need to have an account).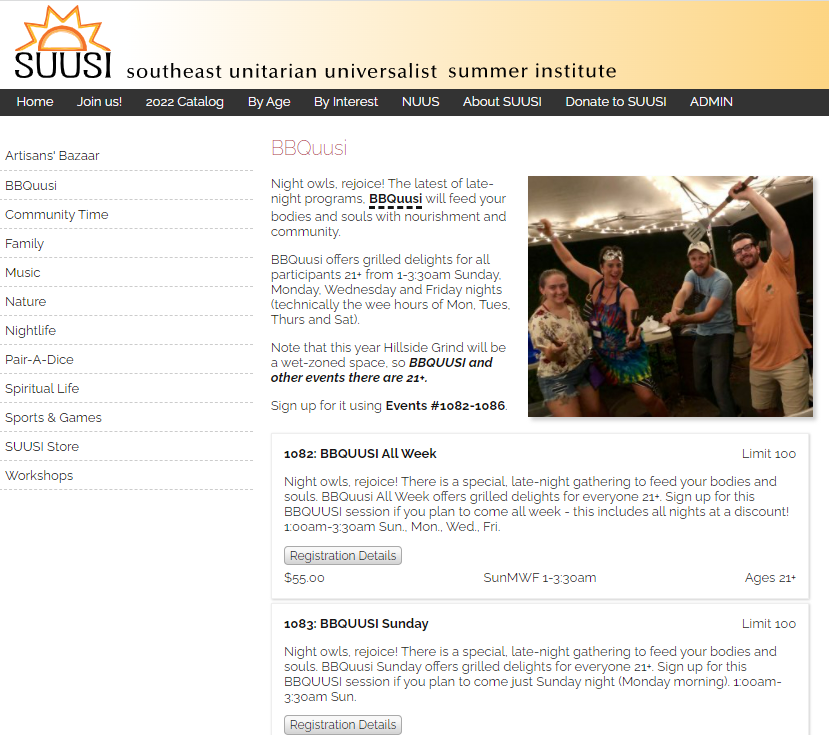 Recommendations for a Fun SUUSI
We don't recommend picking an activity for every morning and afternoon session all week long – that is often exhausting for most newcomers. Make sure you leave some down time in your schedule.
Our Newcomer Coordinator would be delighted to talk with you about SUUSI and answer any questions you might have. Reach out at newcomers@suusi.org.
If you have children under 10, their mornings will be spent in age-based youth programming. Children 0-5 return to their same class in the afternoon, while 6-10 year-olds should pick afternoon workshops from the catalog. Of course you're welcome to keep your children with you during any time segment! You might like to sign up for a family-friendly Nature trip or Sports & Games activity together. Young people in the Middler and Teen programs have activities in their own age group and do not need to sign up for workshops, although they may.
Special Programs to Get Connected
SUUSI is a large community, and sometimes newcomers feel a bit daunted by its size. Newcomers often mention that nature trips, service projects, and multi-day workshops are also great ways to get to know people at SUUSI. We encourage you to consider signing up for workshop #1080, Intentional Community Housing, or workshop #1081, Connection Circles, to be assigned to a small group that will help you make personal connections.
Registering
SUUSI uses an online registration system called SOLIS. Access SOLIS here and create an account. Follow the prompts to register for SUUSI 2023. If you are planning to attend SUUSI with other people in your family, start one registration and then add people to your "family group" in SOLIS. Please do not start a new registration for every person. You can add another person at any time until registration closes.
Questions about the registration process? Contact the SUUSI Registrar at registration@suusi.org
Affording SUUSI
We think SUUSI costs compare favorably with other week-long vacation options. Your SUUSI registration cost includes housing and food for the week, as well as many activities. If you can't afford to attend SUUSI, however, you do have options:
Apply to be on staff. SUUSI is an all-volunteer organization. Instead of being paid, our staff members work in exchange for a reduction in their registration and housing fees. You can work part-time or full-time at SUUSI.
Apply for a SUUSIship. SUUSI offers scholarships to individuals and families who would otherwise not be able to afford to attend. You may apply for a SUUSIship through SOLIS when you register. If you know you will need a SUUSIship, it's best to apply early, as funds are limited.