Accessibility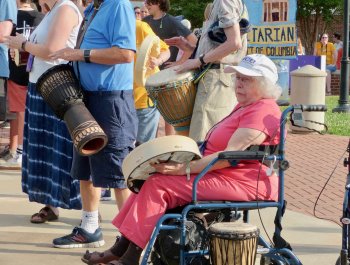 As a modern university campus, Western Carolina University provides us with buildings, walkways, and rooms that are accessible for those who use wheelchairs and other mobility devices. We try to ensure that SUUSI activities are held in accessible spaces if at all possible. The number of ADA-compliant accessible dorm rooms is limited, so please be sure to note your specific needs for such a room when you register.
We will do our best to assign you to a room that meets your needs. Because SUUSI uses buildings spread out over the campus, additional accessibility needs may arise during the week. SUUSI provides limited on-campus transportation via our Star Cars (golf carts), and we work hard to accommodate people with physical challenges. We encourage people who need them to book Star Car rides in advance—at registration or at the SUUSI office throughout the week.
Closer to SUUSI 2022, we hope to provide a list of vendors that rent motorized chairs for those who will need them. Additionally, a campus map with the locations of wheelchair-accessible entrances will be in your pre-registration materials.