NIGHT LIFE
When the sun goes down, SUUSI wakes UP!
Whether it is music, dancing, food, or conversations over coffee, SUUSI nightlife has something for everyone!
MUSIC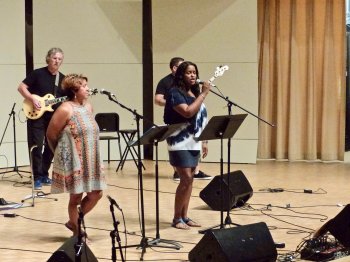 Concert Hour: Monday to Thursday, evey night from 8-9pm we are privileged to enjoy a concert from a professional touring musician. Find out more about this year's Concert Hour performers here!
Cabaret: Cabaret is our nightly live music venue. It's an intergenerational, multi-faceted, mixed bag of evening entertainment. All of the Cabaret performers, amateur and professional alike, are from our own SUUSI community. It's about musicians, poets, actors, dancers and instrumentalists. In short, it's all about YOU! To sign-up to perform at Cabaret, be sure to stop by the Nightlife table at check-in on Sunday or during Cabaret throughout the week!
Sunday night is the start of Cabaret with our Open Mic night directly after Ingathering. You can share a song, dance a dance, recite a poem, tell a short story or a joke. You will need to sign up in advance for this, but it is easy to do at the Nightlife table at Check-In on Sunday. Poets, actors, singers, dancers, young, old, small, tall—all are welcome.
Monday through Thursday – 9:00-11:30pm
Do you want to perform at Cabaret during the rest of the week? Many of those who perform on Sunday night at the open mic will be asked back to do sets during Cabaret on Tuesday, Wednesday or Thursday evening. Each night's schedule will be listed in the daily NUUS and posted outside the auditorium.
Friday: Jamboree – 9:15-11:15pm
Another fine SUUSI tradition, Jamboree is a special performance time where two or more folks who have never performed together before do so for the first time on the Cabaret stage. It's also the time when workshops and classes get to perform. It's amazing what can get pulled together in less than a week!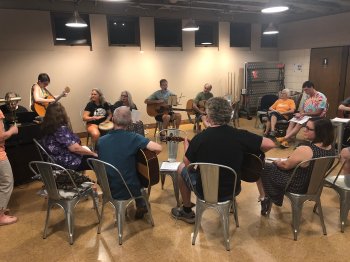 Late Night Song Circle
Where's everyone going? It's only midnight! Beginning at 12am and continuing until the wee, wee hours, Late Night is definitely worth staying up late for! If you can't get enough music, either as a performer or audience member, check out our alternate performing space. You'll be able to play with, sing with, or listen to other musicians on campus. All you need to do is show up!
DANCE VENUES
CACHE
Sunday 11 pm-1 am
Tuesday & Thursday 10 pm-1 am
Friday 10 pm-2 am
CACHE stands for Clean Air Clear Heads Everyone and welcomes anyone age 14 and over who loves to dance. It is a fun, self-guided dance party in an alcohol and smoke-free space. Our DJs will be playing the latest in dance music and invite any song requests that you have.
Ballroom Hour+
Sunday-Friday 6:30-8:00pm
Warm yourself up for clubbing with an hour and a half of Ballroom music and dancing. Every night will focus on one ballroom style, but you will still have a music mix with enough variety to satisfy all Ballroom fans.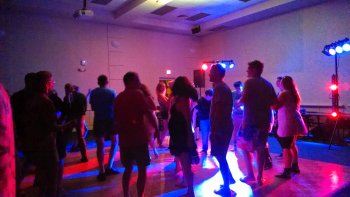 Serendipity
Sunday through Thursday – 10:30 pm-1 am
Friday – 10:30 pm-2 am
If you are 21 or over and love to dance, people watch or relax with a beverage and friends, this is the place for you! Hear the best in dance music ranging from the 50s and 60s all the way up to current popular tunes. Our DJs play to the crowd and always try to make every 'song one that will get you up and dancing. Song requests are welcome; our DJs will do their best to include them in the evening's playlist.
Sunday—Black & White
Tuesday—Shiny
Wednesday—Tropical
Thursday—Tie Dye
Friday—Prom Nite
LATE NIGHT FOOD & DRINK
Common Ground Café
Sunday-Friday – 24 hours!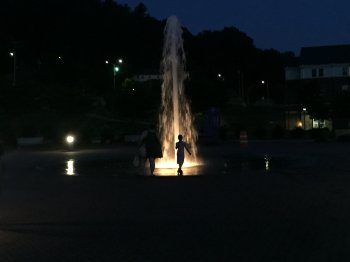 Common Ground is open all day and night to fuel those middle-of-the-night philosophical discussions, let you finish your novel or sate post-dancing coffee cravings! Come hang with other night owls at SUUSI's self-serve coffee bar.
The latest late-night program, BBQuusi, will feed you with nourishment and community. You're probably hungry from all that dancing, right? We fire up the grills at 1 am on Sunday, Monday, Wednesday, and Friday nights.
Event #
Event
Type
Date & Time
Age Range
Sunday 16th July 2023

Common Ground Cafe


Coffee house with coffee, snacks & games
Location: Balsam 102

Price: FREE
Nightlife
Sun Noon-11:59pm, M Midnight-11:59pm, Tu Midnight-11:59pm, W Midnight-11:59pm, Th Midnight-11:59pm,
0+

Cabaret


Cabaret is our nightly live music venue. It's an intergenerational, multi-faceted, mixed bag of evening entertainment. All of the Cabaret performers, amateur and professional alike, are from our own SUUSI community. It's about musicians, poets, actors, dancers and instrumentalists. In short, it's all about YOU! To sign-up to perform at Cabaret, be sure to stop by the Nightlife table at check-in on Sunday or during Cabaret throughout the week! Sunday: Open Mic Night – 9pm-Midnight Sunday night is the start of Cabaret with our Open Mic night directly after Ingathering. You can share a song, dance a dance, recite a poem, tell a short story or a joke. You will need to sign up in advance for this, but it is easy to do at the Nightlife table at Check-In on Sunday. Poets, actors, singers, dancers, young, old, small, tall—all are welcome.
Location: Bardo Main Theater

Price: FREE Registration Details
Nightlife
SunMTuWTh 9-11:30pm
14+

Serendipity


If you are 21 or over and love to dance, people watch, or site and chat with friends in a fun atmosphere, this is the place for you! From 11:00 PM to 12:00 AM we'll have a dedicated stylistic hour. Bring your own tunes and our DJs will do their best to include them or take your requests. Alcoholic beverages will be available for purchase with ID.
Location: Hillside Grind Common Space

Price: FREE Registration Details
Nightlife
Sun 10:30pm-1am, M 10:30pm-1am, Tu 10:30pm-1am, W 10:30pm-1am, Th 10:30pm-1am, and F 10:30pm-2am
21+

CACHE


CACHE stands for Clean Air Clear Heads Everyone and welcomes anyone age 14 and over who loves to dance. It is a fun, self-guided dance party in an alcohol and smoke free space. Our DJs will be playing the latest in dance music and invite any song requests that you have.
Location: Balsam Blue Ridge Crossover Lounge

Price: FREE
Nightlife
Sun 11pm-1am, Tu 10pm-1am, Th 10pm-1am, and F 10pm-2am
14+

Late Night


Late night song circle
Location: Water Rock 3108

Price: FREE
Nightlife
SunMTuWThF 11pm-3am
14+
Monday 17th July 2023

Little Sing


pick up choir
Location: Coulter 357

Price: FREE
Nightlife
MTuW 4:05-5:30pm
14+

Ballroom Dance Hour


Warm yourself up for clubbing with an hour of Ballroom. Every night will focus on one ballroom style but you will still have a music mix with enough variety to satisfy all Ballroom fans.
Location: Campus Rec Studio 1 (wood floor)

Price: FREE
Nightlife
MTuWThF 6:30-8pm
14+

Concert Hour


Joe Jencks in Concert
Location: Bardo Main Theater

Price: FREE Registration Details
Nightlife
M 8-9pm
10+

Cabaret


Cabaret is our nightly live music venue. It's an intergenerational, multi-faceted, mixed bag of evening entertainment. All of the Cabaret performers, amateur and professional alike, are from our own SUUSI community. It's about musicians, poets, actors, dancers and instrumentalists. In short, it's all about YOU! To sign-up to perform at Cabaret, be sure to stop by the Nightlife table at check-in on Sunday or during Cabaret throughout the week! Sunday: Open Mic Night – 9pm-Midnight Sunday night is the start of Cabaret with our Open Mic night directly after Ingathering. You can share a song, dance a dance, recite a poem, tell a short story or a joke. You will need to sign up in advance for this, but it is easy to do at the Nightlife table at Check-In on Sunday. Poets, actors, singers, dancers, young, old, small, tall—all are welcome.
Location: Bardo Main Theater

Price: FREE Registration Details
Nightlife
SunMTuWTh 9-11:30pm
14+

Serendipity


If you are 21 or over and love to dance, people watch, or site and chat with friends in a fun atmosphere, this is the place for you! From 11:00 PM to 12:00 AM we'll have a dedicated stylistic hour. Bring your own tunes and our DJs will do their best to include them or take your requests. Alcoholic beverages will be available for purchase with ID.
Location: Hillside Grind Common Space

Price: FREE Registration Details
Nightlife
Sun 10:30pm-1am, M 10:30pm-1am, Tu 10:30pm-1am, W 10:30pm-1am, Th 10:30pm-1am, and F 10:30pm-2am
21+

Late Night


Late night song circle
Location: Water Rock 3108

Price: FREE
Nightlife
SunMTuWThF 11pm-3am
14+
Tuesday 18th July 2023

Common Ground Cafe


Coffee house with coffee, snacks & games
Location: Balsam 102

Price: FREE
Nightlife
Sun Noon-11:59pm, M Midnight-11:59pm, Tu Midnight-11:59pm, W Midnight-11:59pm, Th Midnight-11:59pm,
0+

Little Sing


pick up choir
Location: Coulter 357

Price: FREE
Nightlife
MTuW 4:05-5:30pm
14+

Ballroom Dance Hour


Warm yourself up for clubbing with an hour of Ballroom. Every night will focus on one ballroom style but you will still have a music mix with enough variety to satisfy all Ballroom fans.
Location: Campus Rec Studio 1 (wood floor)

Price: FREE
Nightlife
MTuWThF 6:30-8pm
14+

Concert Hour


Carla Ulbrich in Concert
Location: Bardo Main Theater

Price: FREE Registration Details
Nightlife
Tu 8-9pm
10+

Cabaret


Cabaret is our nightly live music venue. It's an intergenerational, multi-faceted, mixed bag of evening entertainment. All of the Cabaret performers, amateur and professional alike, are from our own SUUSI community. It's about musicians, poets, actors, dancers and instrumentalists. In short, it's all about YOU! To sign-up to perform at Cabaret, be sure to stop by the Nightlife table at check-in on Sunday or during Cabaret throughout the week! Sunday: Open Mic Night – 9pm-Midnight Sunday night is the start of Cabaret with our Open Mic night directly after Ingathering. You can share a song, dance a dance, recite a poem, tell a short story or a joke. You will need to sign up in advance for this, but it is easy to do at the Nightlife table at Check-In on Sunday. Poets, actors, singers, dancers, young, old, small, tall—all are welcome.
Location: Bardo Main Theater

Price: FREE Registration Details
Nightlife
SunMTuWTh 9-11:30pm
14+

CACHE


CACHE stands for Clean Air Clear Heads Everyone and welcomes anyone age 14 and over who loves to dance. It is a fun, self-guided dance party in an alcohol and smoke free space. Our DJs will be playing the latest in dance music and invite any song requests that you have.
Location: Balsam Blue Ridge Crossover Lounge

Price: FREE
Nightlife
Sun 11pm-1am, Tu 10pm-1am, Th 10pm-1am, and F 10pm-2am
14+

Serendipity


If you are 21 or over and love to dance, people watch, or site and chat with friends in a fun atmosphere, this is the place for you! From 11:00 PM to 12:00 AM we'll have a dedicated stylistic hour. Bring your own tunes and our DJs will do their best to include them or take your requests. Alcoholic beverages will be available for purchase with ID.
Location: Hillside Grind Common Space

Price: FREE Registration Details
Nightlife
Sun 10:30pm-1am, M 10:30pm-1am, Tu 10:30pm-1am, W 10:30pm-1am, Th 10:30pm-1am, and F 10:30pm-2am
21+

Late Night


Late night song circle
Location: Water Rock 3108

Price: FREE
Nightlife
SunMTuWThF 11pm-3am
14+
Wednesday 19th July 2023

Common Ground Cafe


Coffee house with coffee, snacks & games
Location: Balsam 102

Price: FREE
Nightlife
Sun Noon-11:59pm, M Midnight-11:59pm, Tu Midnight-11:59pm, W Midnight-11:59pm, Th Midnight-11:59pm,
0+

Little Sing


pick up choir
Location: Coulter 357

Price: FREE
Nightlife
MTuW 4:05-5:30pm
14+

Ballroom Dance Hour


Warm yourself up for clubbing with an hour of Ballroom. Every night will focus on one ballroom style but you will still have a music mix with enough variety to satisfy all Ballroom fans.
Location: Campus Rec Studio 1 (wood floor)

Price: FREE
Nightlife
MTuWThF 6:30-8pm
14+

Concert Hour


Crys Matthews in Concert
Location: Bardo Main Theater

Price: FREE Registration Details
Nightlife
W 8-9pm
10+

Cabaret


Cabaret is our nightly live music venue. It's an intergenerational, multi-faceted, mixed bag of evening entertainment. All of the Cabaret performers, amateur and professional alike, are from our own SUUSI community. It's about musicians, poets, actors, dancers and instrumentalists. In short, it's all about YOU! To sign-up to perform at Cabaret, be sure to stop by the Nightlife table at check-in on Sunday or during Cabaret throughout the week! Sunday: Open Mic Night – 9pm-Midnight Sunday night is the start of Cabaret with our Open Mic night directly after Ingathering. You can share a song, dance a dance, recite a poem, tell a short story or a joke. You will need to sign up in advance for this, but it is easy to do at the Nightlife table at Check-In on Sunday. Poets, actors, singers, dancers, young, old, small, tall—all are welcome.
Location: Bardo Main Theater

Price: FREE Registration Details
Nightlife
SunMTuWTh 9-11:30pm
14+

Serendipity


If you are 21 or over and love to dance, people watch, or site and chat with friends in a fun atmosphere, this is the place for you! From 11:00 PM to 12:00 AM we'll have a dedicated stylistic hour. Bring your own tunes and our DJs will do their best to include them or take your requests. Alcoholic beverages will be available for purchase with ID.
Location: Hillside Grind Common Space

Price: FREE Registration Details
Nightlife
Sun 10:30pm-1am, M 10:30pm-1am, Tu 10:30pm-1am, W 10:30pm-1am, Th 10:30pm-1am, and F 10:30pm-2am
21+

Late Night


Late night song circle
Location: Water Rock 3108

Price: FREE
Nightlife
SunMTuWThF 11pm-3am
14+
Thursday 20th July 2023

Common Ground Cafe


Coffee house with coffee, snacks & games
Location: Balsam 102

Price: FREE
Nightlife
Sun Noon-11:59pm, M Midnight-11:59pm, Tu Midnight-11:59pm, W Midnight-11:59pm, Th Midnight-11:59pm,
0+

Ballroom Dance Hour


Warm yourself up for clubbing with an hour of Ballroom. Every night will focus on one ballroom style but you will still have a music mix with enough variety to satisfy all Ballroom fans.
Location: Campus Rec Studio 1 (wood floor)

Price: FREE
Nightlife
MTuWThF 6:30-8pm
14+

School of Rock


School of Rock Performance
Location: Bardo Main Theater

Price: FREE Registration Details
Nightlife
Th 8-9pm
6+

Cabaret


Cabaret is our nightly live music venue. It's an intergenerational, multi-faceted, mixed bag of evening entertainment. All of the Cabaret performers, amateur and professional alike, are from our own SUUSI community. It's about musicians, poets, actors, dancers and instrumentalists. In short, it's all about YOU! To sign-up to perform at Cabaret, be sure to stop by the Nightlife table at check-in on Sunday or during Cabaret throughout the week! Sunday: Open Mic Night – 9pm-Midnight Sunday night is the start of Cabaret with our Open Mic night directly after Ingathering. You can share a song, dance a dance, recite a poem, tell a short story or a joke. You will need to sign up in advance for this, but it is easy to do at the Nightlife table at Check-In on Sunday. Poets, actors, singers, dancers, young, old, small, tall—all are welcome.
Location: Bardo Main Theater

Price: FREE Registration Details
Nightlife
SunMTuWTh 9-11:30pm
14+

CACHE


CACHE stands for Clean Air Clear Heads Everyone and welcomes anyone age 14 and over who loves to dance. It is a fun, self-guided dance party in an alcohol and smoke free space. Our DJs will be playing the latest in dance music and invite any song requests that you have.
Location: Balsam Blue Ridge Crossover Lounge

Price: FREE
Nightlife
Sun 11pm-1am, Tu 10pm-1am, Th 10pm-1am, and F 10pm-2am
14+

Serendipity


If you are 21 or over and love to dance, people watch, or site and chat with friends in a fun atmosphere, this is the place for you! From 11:00 PM to 12:00 AM we'll have a dedicated stylistic hour. Bring your own tunes and our DJs will do their best to include them or take your requests. Alcoholic beverages will be available for purchase with ID.
Location: Hillside Grind Common Space

Price: FREE Registration Details
Nightlife
Sun 10:30pm-1am, M 10:30pm-1am, Tu 10:30pm-1am, W 10:30pm-1am, Th 10:30pm-1am, and F 10:30pm-2am
21+

Late Night


Late night song circle
Location: Water Rock 3108

Price: FREE
Nightlife
SunMTuWThF 11pm-3am
14+
Friday 21st July 2023

Common Ground Cafe


Coffee house with coffee, snacks & games
Location: Balsam 102

Price: FREE
Nightlife
Sun Noon-11:59pm, M Midnight-11:59pm, Tu Midnight-11:59pm, W Midnight-11:59pm, Th Midnight-11:59pm,
0+

Ballroom Dance Hour


Warm yourself up for clubbing with an hour of Ballroom. Every night will focus on one ballroom style but you will still have a music mix with enough variety to satisfy all Ballroom fans.
Location: Campus Rec Studio 1 (wood floor)

Price: FREE
Nightlife
MTuWThF 6:30-8pm
14+

Teens Way off Broadway (TWOB) Performance


Teens Way Off Broadway's performance
Location: Bardo Main Theater

Price: FREE Registration Details
Nightlife
F 8-9pm
5+

Jamboree


Another fine SUUSI tradition, Jamboree is a special performance time where two or more folks who have never performed together before do so for the first time on the Cabaret stage. It's also the time when workshops and classes get to perform. It's amazing what can get pulled together in less than a week!
Location: Bardo Main Theater

Price: FREE Registration Details
Nightlife
F 9:15-11:15pm
14+

CACHE


CACHE stands for Clean Air Clear Heads Everyone and welcomes anyone age 14 and over who loves to dance. It is a fun, self-guided dance party in an alcohol and smoke free space. Our DJs will be playing the latest in dance music and invite any song requests that you have.
Location: Balsam Blue Ridge Crossover Lounge

Price: FREE
Nightlife
Sun 11pm-1am, Tu 10pm-1am, Th 10pm-1am, and F 10pm-2am
14+

Serendipity


If you are 21 or over and love to dance, people watch, or site and chat with friends in a fun atmosphere, this is the place for you! From 11:00 PM to 12:00 AM we'll have a dedicated stylistic hour. Bring your own tunes and our DJs will do their best to include them or take your requests. Alcoholic beverages will be available for purchase with ID.
Location: Hillside Grind Common Space

Price: FREE Registration Details
Nightlife
Sun 10:30pm-1am, M 10:30pm-1am, Tu 10:30pm-1am, W 10:30pm-1am, Th 10:30pm-1am, and F 10:30pm-2am
21+

Late Night


Late night song circle
Location: Water Rock 3108

Price: FREE
Nightlife
SunMTuWThF 11pm-3am
14+
Saturday 22nd July 2023

Common Ground Cafe


Coffee house with coffee, snacks & games
Location: Balsam 102

Price: FREE
Nightlife
Sun Noon-11:59pm, M Midnight-11:59pm, Tu Midnight-11:59pm, W Midnight-11:59pm, Th Midnight-11:59pm,
0+