Teens (14-17)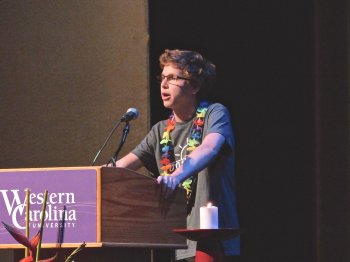 The SUUSI Teen program is an exciting intentional community for people ages 14-17. Teen Leaders and adult staff members work together to create a fun, safe, and healthy place in which teens explore and grow. There are a combination of guided and spontaneous activities with large and small groups. We develop and practice UU principles, explore ideas, and share in growing and maintaining a vibrant community. In the SUUSI Teen Program, friendships are made that often last a lifetime! The life of the Teen program centers on the dorm where teens live (and play) for the week of SUUSI.
Please see this Important information for all parents & Guardians of Teens on expectations at SUUSI
Teen Leaders & Touch Groups
The heart of the Teen program is the opportunity for teens to lead and be led by peers in a mindful and deliberate way. In previous years, the teens have elected next year's leaders at SUUSI. This year, we encourage teens to use the staff application in SOLIS to apply for Teen Leader positions. This group of dynamic teens will come to SUUSI early for leadership training with adult staff and has responsibilities in the dorm during throughout the week.
Teen Leaders each facilitate a small group of other teens in the program, called a "touch group." Through the touch groups, Teen Leaders help new members become comfortable in the dorm, address social issues as they come up, share in daily experiences, and offer support as necessary. Touch groups provide a more self-guided experience appropriate to the changing needs of teenagers on their way to adulthood. Adult staff members give feedback and guidance throughout this process.
Life in the Teen Dorm
The Teen Dorm is the center of all teen life, even as Teens participate in the wider SUUSI community. This is where we share worship, space, laughter, tears, hugs, ideas, music, and games. The Teen Dorm is a busy place with some sort of activity going on at all hours of the day and night. The degree to which a teen participates is up to the teen and their parent(s)/guardian(s).
Each day, teens can decide how to spend their time, but they are required to attend their afternoon touch group meetings, the evening Teen Dorm activity, and 1 am check-in.
They are also strongly encouraged to attend a workshop or activity during the day. Throughout the week, we offer workshops exclusively for teens.
Teens can register in advance for workshops or nature trips in the greater SUUSI community, or they can wait to see what workshops will be offered at the Teen Dorm during the week. A few afternoon workshop highlights for this year are aquatic activities at the WCU pool, Teen Nature Adventure, yoga, a thrift store run, and the ever-popular henna!
In the evening, we have a required activity that either takes place in the dorm and is just for teens or is a shared experience with the wider SUUSI community. This year we are resuming our wonderful worship tradition of Teen-led evening worship for the entire SUUSI Community. A highlight of that service will be the Bridging Ceremony for our 17-year-olds.
Nights are the time when the Teen Dorm truly comes alive! Teens can hang out in the dorm, play games, make and listen to music, or attend CACHE, the teen-friendly dance party. For teens who want to perform, they are encouraged to participate in Teen Coffeehouse as well as Cabaret.
Look for a draft Teen Program Schedule in your arrival packet. Teens are welcome to suggest workshops and activities prior to SUUSI by sending a message to teens@suusi.org.
Teens are not required to live in the dorm, but teens not living in the dorm must be with their parent(s)/guardian(s) during curfew hours (1 am – 6 am). If a teen decides to stay with his or her parent(s)/guardian(s) during curfew hours, or if they will miss a required meeting for any reason (nature trip, workshop, etc.), staff needs to be notified in advance.
For everyone's safety, access to the Teen Dorm is limited to teens and staff. Parents/ guardians are encouraged to stop by at any time (and leave something in their teen's mailbag), but only those with SUUSI name tags will be allowed in and will be escorted by a staffer at all times.
Teen Way Off Broadway
A tradition that began in 1987, TWOB is a highlight of the week for people of all ages. SUUSI teens, with the support of a dedicated staff, put together a musical from scratch over the week, and perform it for the whole community on Friday evening. The show runs a little less than an hour and is fun for all ages. The title and theme is a closely-guarded secret—watch the SUUSI NUUS for hints throughout the week.
Teen Dorm Guide for Parents
The Teen Dorm program provides an experience that is distinct from either home or a summer camp. For the week, teens have a wide degree of autonomy, with peer and adult social supports in place. Teens dictate their schedules according to their interests and family expectations.
As a middle ground between home life and future autonomy, the teen program has a few very strict rules. The core regulations teens must respect are the 1-6am in-building curfew and the 2-6am in-room curfew throughout the week; no alcohol, tobacco, or nicotine products, illegal drugs, or misuse of legal drugs; and no violence. Teens who break these rules are required to leave SUUSI for the year.
To be clear, teens must be in the teen dorm area by 1am then by 2am they must be in their assigned room until 6am. We seek to promote a safe, affirming space for teens to learn and grow. The new in-room curfew is meant to promote essential self-care practices, such as sleep, and is in no way meant to be a punishment.
The Teen Program is committed to supporting teens who may struggle to remain substance-free at SUUSI, and teens and their parents/guardians are encouraged to contact the Teen Directors (teens@suusi.org) before SUUSI to plan for adequate support.
Sexual contact is also not acceptable within the teen community. Beyond this, teens are free to socialize at length, sleep when and where they want and show affection in respectful, non-coercive ways. We ask that parents/guardians have constructive conversations with their teens about expectations and hopes for how they will relate to other teens in this environment. Parents need to talk with their teen before SUUSI about situations such as friends and guests in the dorm room; where, when and with whom it is appropriate to sleep; how to get along with roommates; and how to assert themselves positively in social situations. These answers will vary.
These conversations will also take place in the Teen Dorm. Parents who are concerned that their teen is not ready for such a wide degree of self-guided latitude may elect to house their teens with them during SUUSI. Those teens will be welcome and included in all other teen program activities outside of curfew hours.
The Teen program offers a unique midpoint in the evolution of teenagers into adults. Adult staffers are available to organize activities as well as provide mediation for issues. We seek to create a community that encourages communication and models respect, while offering freedom to its members in preparation for the independence that is not far off in their lives.
Event #
Event
Type
Date & Time
Age Range
Sunday 16th July 2023

Teen Parent / Guardian Meeting


All teens and their parents or guardians will gather after Ingathering to review the Teen program including rules and expectations.
Location: Bardo Main Theater

Price: FREE
Teens
Sun 8-8:30pm
14+

89

Teens Touch Group Sunday


Teen Leaders each facilitate a small group of other teens in the program, called a "touch group." Through the touch groups, Teen Leaders help new members become comfortable in the dorm, address social issues as they come up, share in daily experiences and offer support, as necessary. Touch groups provide a more self-guided experience appropriate to the changing needs of teenagers on their way to adulthood. Adult staff members give feedback and guidance throughout this process.
Location: 0-TBD

Price: FREE Registration Details
Teens
Sun 9-9:30pm
14-17

82

Teen Ingathering


Teens will gather together to begin the intentional act of building community. This will include a discussion of norms, consent, and what it means to be a community.
Location: Balsam Blue Ridge Crossover Lounge

Price: FREE Registration Details
Teens
Sun 9-10pm
14-17
Monday 17th July 2023

81

Teen Outdoor Adventure


Come join us in nature as we begin our wonderful week together. Spend the afternoon reconnecting with old friends or meeting some new ones as we enjoy some outdoor time together. There will be several options for you to enjoy such as tubing down the Deep Creek River, relaxing on the beach in the shade (or sun) with music and friends, playing interactive games, hiking to view waterfalls, or playing some sports. We will enjoy a picnic dinner on site. If you choose to go tubing or swimming you will need correct footwear (see description under Nature Aquatics), drinking water, glasses strap (if you wear glasses), swimwear, sunscreen, dry clothes, and a towel.
Location:

Price: FREE Registration Details
Teens
M 3-8pm
14-17
Tuesday 18th July 2023

90

Teens Touch Group Tuesday


Teen Leaders each facilitate a small group of other teens in the program, called a "touch group." Through the touch groups, Teen Leaders help new members become comfortable in the dorm, address social issues as they come up, share in daily experiences and offer support, as necessary. Touch groups provide a more self-guided experience appropriate to the changing needs of teenagers on their way to adulthood. Adult staff members give feedback and guidance throughout this process.
Location: 0-TBD

Price: FREE Registration Details
Teens
Tu 8-8:30pm
14-17
Wednesday 19th July 2023

91

Teens Touch Group Wednesday


Teen Leaders each facilitate a small group of other teens in the program, called a "touch group." Through the touch groups, Teen Leaders help new members become comfortable in the dorm, address social issues as they come up, share in daily experiences and offer support, as necessary. Touch groups provide a more self-guided experience appropriate to the changing needs of teenagers on their way to adulthood. Adult staff members give feedback and guidance throughout this process.
Location: 0-TBD

Price: FREE Registration Details
Teens
W 8-8:30pm
14-17
Thursday 20th July 2023

92

Teens Touch Group Thursday


Teen Leaders each facilitate a small group of other teens in the program, called a "touch group." Through the touch groups, Teen Leaders help new members become comfortable in the dorm, address social issues as they come up, share in daily experiences and offer support, as necessary. Touch groups provide a more self-guided experience appropriate to the changing needs of teenagers on their way to adulthood. Adult staff members give feedback and guidance throughout this process.
Location: 0-TBD

Price: FREE Registration Details
Teens
Th 8-8:30pm
14-17
Friday 21st July 2023

93

Teen Touch group Friday


Teen Leaders each facilitate a small group of other teens in the program, called a "touch group." Through the touch groups, Teen Leaders help new members become comfortable in the dorm, address social issues as they come up, share in daily experiences and offer support, as necessary. Touch groups provide a more self-guided experience appropriate to the changing needs of teenagers on their way to adulthood. Adult staff members give feedback and guidance throughout this process.
Location: 0-TBD

Price: FREE Registration Details
Teens
F Noon-12:30pm
14-17
490: Teen Way Off Broadway (TWOB)

Limit 30

Build deep friendships by putting a musical together in 5 days! TWOB is a team of teen actors, singers, dancers, and crew who rehearse, stage, and perform a musical for all of SUUSI. No stage experience necessary; come to learn and try something new. Lindsay Bennett-Jacobs and Daniel Jackoway are back as TWOB directors! Lindsay has been Teen and SUUSI Director, and Daniel was once a TWOB teen.

Registration Details