Aquatics Trips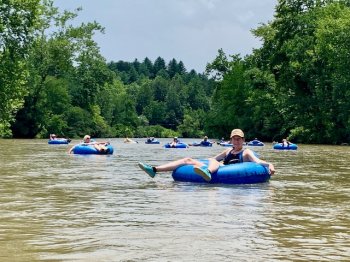 WCU is located in a beautiful and temperate rain forest. The bio-diverse mountains and valleys around the Cullowee area are surrounded by a clean watershed that supplies numerous streams, lakes, and some of the oldest river systems in North America. The French Broad River is part of a system of waterways that is thought possibly to predate the continent. The Nantahala River, which, in Cherokee means "Land of the Noonday Sun" feeds into the Little Tennessee River and is steeped in Native American history. On the Tuckasegee River, derived from the Cherokee word daksiyi, meaning "Turtle Place", Native American fishing weirs can still be viewed. Join us as we explore this natural water wonderland! We have trips where you can learn new skills as well as those where you simply float with the current and take in the breathtaking scenery. Look for rafting, canoeing, kayaking, SUPing (standup paddleboard), and tubing.
Aquatics Difficulty Ratings
Please read the descriptions of difficulty levels carefully before signing up for an aquatics trip. Aquatics staff will be happy to answer questions (email nature@suusi.org).
Gentle: Introductory level; average fitness.
Moderate: Good condition; possibly some proficiency in paddling skills.
Strenuous: Above average fitness; some proficiency in paddling skills required.
Important Guidelines for Aquatics Trips
Read the following information carefully before registering for aquatics trips.
Trips will go out rain or shine, but they may be relocated or canceled if there is a long-duration storm. Trips could take more or less time than indicated due to streamflow, dam water release, or weather. All participants will be expected to help load and unload gear. Trip leaders will not launch during thunderstorms, and we will wait for 30 minutes after the last thunderclap to launch the watercraft. We will stay in the vans or under appropriate cover during bad weather.
All trips will leave at the time shown on the schedule. Be at the Nature Tent/Office at least 15 minutes early. You should have drinking water with you for all trips. Fill your water bottles before you leave the dorm. Two quarts of water are recommended. Bring all of your other required gear and supplies, too.
Personal flotation devices or life jackets are provided and must be worn. You do not need to be a great swimmer to enjoy our river trips; however, you do need to be sure of your abilities should you be separated from your boat or tube in still or moving water. Trip leaders will do their best to alert you to possible trouble spots, but one thing is for sure in paddling sports; the water is the boss and occasionally can have a few surprises downstream.
Wearing the correct footwear is required for all aquatic trips (see the Shoe Requirements). We will enforce this rule to help with walking in awkward or slippery terrain as well as to protect your feet from sharp objects like glass, metal, and sharp rocks that often can be found in rivers and streams. Footwear must be sturdy and must stay on securely in moving or still water. Participants without proper shoes will not be allowed to go on the trip. If you have any doubts, please have a Nature Staffer check them out well before departure time.
The skills for paddling smooth lakes, flat water, or estuaries are not the same as those needed for Class I-II+ Rivers. If you've never paddled moving or whitewater, or if it's been a long time since you have used these skills, please sign up for an instructional or introductory trip.
American Whitewater rates the sections of the rivers that we'll use by the following scale:
Class I: Easy - Fast-moving water with riffles and small waves. Few obstructions and all are obvious and easily avoided with basic training.
Class II: Novice/Intermediate – Straightforward rapids with wide, clear channels, which are evident without scouting. Occasional maneuvering may be required, but rocks and medium-sized waves are easily avoided by trained paddlers.
The difficulty ratings for these trips are not exaggerated; a measure of physical strength is necessary, especially in the occasional rescue situation.
Helpful Tips for a More Successful Trip
Do not take anything (rings, watches, jewelry, meal cards, keys, etc.) with you on the river if it would break your heart to return without it. The Robber Fish can snatch your stuff, so leave valuables in your room or in the van. Protective straps are recommended if you need to wear glasses on the river. If you want to bring a camera, make it a waterproof disposable, not your favorite camera.
Synthetic fiber and wool garments will help keep you comfortable. As amazing as it might seem, it can be very cold on the river in July! Cotton actually will make you colder. A rain or paddling jacket will be very welcome if there's a shower! (No ponchos allowed.) It's a great idea - and a requirement to be prepared.
Shoe Requirement
The point of these requirements is to keep your feet protected from rocks, broken glass, etc. Your shoes must stay on your feet throughout the trip and have a sole thick enough to stop sharp objects. Slip-ons, ancient shoes that are barely together, or other footwear that does not protect your feet will not be allowed.
OK for ALL Aquatics trips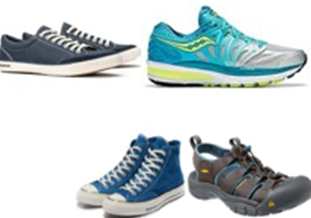 Tied, closed-toe shoes with thick enough soles to protect the bottoms of your feet, such as sneakers, tennis shoes, and running shoes; thick-soled water shoes that secure around the foot and have adequate toe protection.
NOT PERMITTED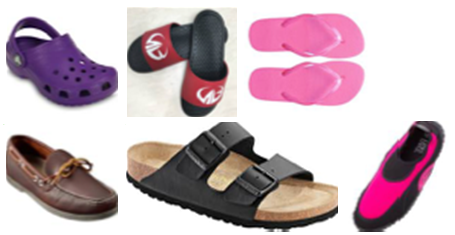 Open-toed sandals, crocs, flip flops, shoes that slip on, or don't tie or fasten tightly enough to keep them on.
OK for hiking in a creek (water stomp), but NOT for float trips
Hiking boots.
OK for canoeing, kayaking, or tubing but NOT hiking

Open- and closed-toe water shoes with thick soles that stay securely on your feet with straps around the back of your heel.