SUUSI Community Time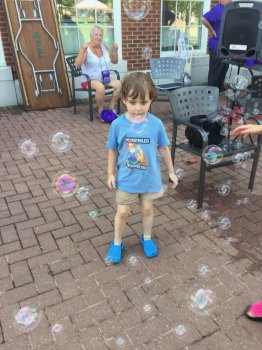 Join us daily from 4-6 pm for fun for all ages at Community Time 2023! We welcome all to our squad to share, laugh and love with each other as we gather to share in activities, crafts, and other events. There are themes each day, though other spontaneous events are also welcome. Plan to bring games and musical instruments to share with fellow SUUSI community. We have some great plans in the works, but if you have any ideas or activities you would be interested in bringing to Community Time, don't hesitate to contact us at communitytime@suusi.org. We will do our best to fill your spiritual and emotional needs during this joyous community gathering!
Monday: Gratitude & Joy
Let's begin the week with Joy & Gratitude! Please join us in making a Community Time banner to be used in next year's banner parade. We will also host conversations and craft projects centered around gratitude and joy to help us cultivate a vision for how we want to "turn our world around." Fun with temporary tattoos and SUUSI rocks will also be available. Community time is a great space to reconnect and meet new friends. We encourage everyone to bring their favorite activities or talents to share.
Tuesday: Intergenerational Fair
We are an intergenerational camp, so let's take Tuesday to explore what that means! Each age group will be hosting an activity or craft. We will all learn about what each program does all week and share an appreciation for the talents and gifts each of us brings to our community at every stage of life.
Wednesday: SUUSI Pride
Wear or bring your Pride swag and join our celebration of the fabulous LGBTQIA+ community. Face painting is provided by teen volunteers. Make banners and swag to join for the walk at 5:00 pm
Thursday: SUUSI Community Art Festival
SUUSI is a place where imagination and creativity are in abundant supply. Come show off what you have been creating during SUUSI. If you have not had a chance to explore your creativity, come appreciate what others have brought to share and explore the art mediums we'll have available to get creative! We will have paint, pastels, colored pencils, markers, clay, a poetry station, and plenty of inspiration to get you started with your own creative practice.
Friday: Share Your Talents
We know SUUSI's got talent! Are you a singer, a poet, a dancer, a comedian, an artist, or an eternal being with some other talent? Bring an open spirit and your talents to Community Time on Friday. We will have several stations where people will perform or present their talents. We ask that you sign up at Community Time throughout the week, so we can create a schedule that will be published in the SUUSI NUUS. You do not have to sign up to participate, but those who do will perform/present first.