Discovery Trips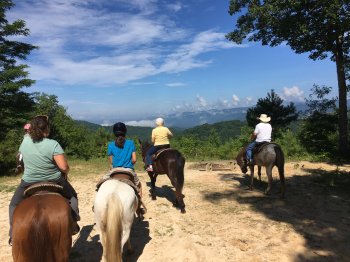 SUUSI's Discovery trips are where we dive into humans' interaction with Nature. You can visit historic sites and museums or go shopping in nearby towns. Take a walking tour and learn about the area's rich, African American history and sit around a fire listening to stories about the ancient, Native American culture. Go horseback riding, visit waterfalls, learn which plants in your backyard are edible, or learn how to tie and cast a fly for fly fishing. And new this year, we are offering ADA-accessible adventures nearby! We've identified many local spots and activities that require little physical exertion and provide a high yield for learning opportunities, exposure to new adventures, and just plain beautiful sites. And, we make sure to keep the fun in every trip we take!
Discovery Difficulty Ratings
Gentle: Level terrain.
Moderate: Slight elevation change, some stairs, some physical exertion required.
Required Equipment for Discovery Trips
It is recommended that you wear sturdy shoes and bring a quart of water and rain gear for all Discovery trips.