Discovery Trips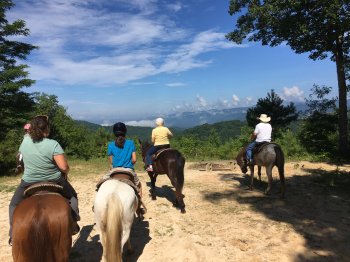 Whatever you enjoy doing, whether it is educational, exploring new venues, or taking in beautiful sights, SUUSI hopes you will find it with a Nature Discovery trip. Visit historic sites and museums or relax with a visit to nearby towns. Learn about the area's rich, ancient Native American culture. Go horseback riding, visit waterfalls, take a short hike to learn about the flora and fauna of the region. We also aim to teach you new sports, e.g., fly fishing! We've identified many local spots and activities that require little physical exertion and provide a high yield for learning opportunities and exposure to new adventures. And, we make sure to keep the fun in every trip we take!
Discovery Difficulty Ratings
Gentle: Level terrain.
Challenging: Slight elevation change, some stairs, some physical exertion required.
Required Equipment for Discovery Trips
It is recommended that you wear sturdy shoes and bring a quart of water and rain gear for all Discovery trips.
Event #
Event
Type
Date & Time
Age Range
Monday 18th July 2022

555

Waterfall HorseTrail Ride Monday (Family Friendly)


Horseback Riding at its finest! This 2.5-hour trail ride climbs up a mountain trail with beautiful scenery and a waterfall. Smokemont Riding Stable is located in the Great Smoky Mountains National Park just outside of Cherokee. There is a weight limit of 240 lbs per person. A waiver is required. Drive Time: 60 mins one way. Horseback Riding at its finest! This 2.5-hour trail ride climbs up a mountain trail with beautiful scenery and a waterfall. Smokemont Riding Stable is located in the Great Smoky Mountains National Park just outside of Cherokee. There is a weight limit of 240 lbs per person. A waiver is required. Drive Time: 60 mins one way. This trip is also offered on Tuesday.
Price: $125.00 Registration Details
Nature
M 7:30am-12:30pm
8+

503

Wildflowers South on the Parkway


Join retired Virginia State University Professor Ernie Wilson and drive south on the Blue Ridge Parkway to Waterrock Knob. We will stop and get out at 5 overlooks to see what is growing. The stops will allow us to see a waterfall in one place and a rock wall wet with water flowing from springs and covered with rare plants in another. At Waterrock, we will walk into a spruce-fir forest similar to those found in northern New England or Canada, which is a very different experience than walking into a southern forest. Drive Time: 35 mins to the parkway.
Price: $27.00 Registration Details
Nature
M 8am-Noon
14+

527

Cherokee Ruby & Sapphire Mine (Family Friendly)


Under new ownership, this promises to be an enhanced experience and kid-friendly! Two pre-filled buckets of dirt are included in the price and they hope to have a fill your own option from their mine. This educational trip is to an authentic mine where you will learn about the geology and history of the gem mining trade in western North Carolina. You will mine for gems only found in the Cowee Valley. An array of gems have been found at this mine. Keep your eyes open for pigeon blood-colored rubies, star rubies, star sapphires, star garnets, rhodolite, and pyrope garnets, rutile, sillimanite, kyanite, corundum, quartz crystals, and moonstone. Note: the location of this trip is weather dependent may cause the trip to be cancelled. That said, storms are unlikely in the morning. Drive Time: 45 mins one way.
Price: $75.00 Registration Details
Nature
M 8:15am-12:30pm
4+

520

Great Smoky Mountains Railroad (Family Friendly)


Departing from Bryson City, this 4 ½ hour excursion carries you 44 miles by train to the Nantahala Gorge and back again. Travel along the Little Tennessee and Nantahala Rivers across Fontana Lake and into the magic of the Nantahala River Gorge. Enjoy a layover at Nantahala Outdoor Center for sightseeing, having lunch by the river from one of the many eateries or just plain relaxing. Consider picking up a box lunch from cafeteria before leaving if you don't want to purchase lunch at the NOC (bring $$ for purchase on site). Drive Time: 45 mins one way.
Price: $110.00 Registration Details
Nature
M 8:30am-4:30pm
0+
Tuesday 19th July 2022

517

Waterfall Horse Trail Ride Tuesday (Family Friendly)


Horseback Riding at its finest! This 2.5-hour trail ride climbs up a mountain trail with beautiful scenery and a waterfall. Smokemont Riding Stable is located in the Great Smoky Mountains National Park just outside of Cherokee. There is a weight limit of 240 lbs per person. A waiver is required. Drive Time: 60 mins one way. This trip is also offered on Monday.
Price: $125.00 Registration Details
Nature
Tu 7:30am-12:30pm
8+

504

Wildflowers North on the Parkway


Bring your camera with you as we drive north on the parkway from Balsam Gap. We will stop at and explore for wildflowers at five overlooks. There are at least 35 species of wildflowers to be seen, some in as great abundance as you would see in travel brochures. At one stop, we will use a guidebook, Newcomb's Wildflower Guide, to give you a chance to identify flowers yourself. Retired Botany and Microbiology Professor Ernie Wilson, who currently runs wildflower identification programs in Richmond, VA, will also be available for help. Loads of photographing opportunities! Drive Time: 40 mins one way.
Price: $27.00 Registration Details
Nature
Tu 8am-Noon
14+

549

Asheville Music History Walking Tour


Join us for a cultural immersion in Asheville's eclectic music roots. Expect fun facts and insider insights from a longtime Asheville resident and arts/music journalist. Asheville is known for its history of bluegrass, country, folk and other forms of mountain music. The city's legacy, though, goes well beyond that, says our local host, Alli Marshall. "People are surprised about the eclecticism of Asheville's music scene — how many genres are represented," says Marshall, former Arts & Entertainment editor for Mountain Xpress. "But that's always been the case. For more than a century, Asheville has been at the intersection of innovation and sophistication as well as deep-seated tradition." The two hour, 1.5-mile stroll winds its way through several downtown areas such as Lexington Avenue and The Block-Asheville's historic African-American business district. We'll stop by the Moogseum, Black Mountain College Museum + Arts Center, famed music venue The Orange Peel, and more. There will be plenty of photo ops and an accompanying soundtrack. Lunch provided.
Price: $55.00 Registration Details
Nature
Tu 8:30am-1pm
14+

551

The African American Experience in the Smokies


An initiative of The Great Smoky Mountain National Park, the African American Experience Project is a collaborative effort with the National Park Service, park partners and the community to document and share the untold stories of African Americans in and outside the Smokies, The goal of the project is to add the stories of African Americans to the stories of the early white settlers and Cherokees who lived in the area, This trip will take us to Mingus Mill and the access trail head to the Enloe Cemetery site where enslaved African Americans are known to be buried. A project facilitator will lead an open discussion on the history and current research, including a partnership with WCU who performed ground-penetrating radar at the Enloe Cemetery. There is a very short but steep, natural and rooted trail to the site. Something to sit on is recommended. Trip departs and ends at Oconaluftee Visitor Center where there are bathroom facilities.Time permitting, some additional exploration of area is possible. Drive time 40 minutes on way.
Price: FREE Registration Details
Nature
Tu 12:15-4:45pm
14+

506

Campfire Fun (Family Friendly)


Great for the entire family! Join us for a campfire right on campus! Bring your songs and stories as we just let the fun (and marshmallow roasting) happen. There's nothing like a campfire circle for creating community. It's BYOC (bring your own chair). Bring the kids!! Walk or ride in van to this campus location. Children under 8 must have a car seat or booster seat, and bring to nature tent 15 minutes prior to departure.
Price: $11.00 Registration Details
Nature
Tu 7-9pm
0+

507

Creating SUUSI Campfire Memories


Join us for a campfire right on campus! Bring your songs and stories as we just let the fun happen. There's nothing like a campfire circle for creating community. It's BYOC: bring your own chair. This is an adult event. Look for the child-friendly campfire earlier on Monday evening.
Price: $11.00 Registration Details
Nature
Tu 8-10pm
18+
Wednesday 20th July 2022

500

Birds of Western North Carolina


We will join Ellen and Jim Shelton of the Franklin Birding Club to explore the sights and sounds along the Little Tennessee River Greenway. These folks are local birding enthusiasts who meet each week for greenway walks. Perhaps we'll see an Indigo Bunting, Northern Parula, Cliff Swallow, or an Eastern Towhee. Previous SUUSI folks have seen or heard all these and more: 36 unique species! The path is a combination of pavement, earth, gravel, and some stairs and is uneven in places. Bring your binoculars and let's go birding! Drive time: 20 mins one way
Price: $22.00 Registration Details
Nature
W 7:15-11:15am
14+

550

Forest Bathing


New this year! Refresh in the middle of the week for a deep, sensory immersion in the forest. Enjoy the outdoor mindfulness practice of Forest Bathing on a relatively flat trail where we can commune with the living earth. Learn how to walk like a fox, listen like a deer and see like an owl. We will spend the morning in slow movement, silent meditation, and acute observation of the forest flora and fauna. We will conclude with a circle sharing and tea ceremony made from the bounty of our surroundings.
Price: $22.00 Registration Details
Nature
W 9am-Noon
14+

511

Foraging at Home


Join us for a Nature trip with no van ride! We will walk on campus and explore the bounty of wild edibles found most anywhere. Foraging for wild edible plants is possible in your yard. If you are curious about foraging or want to learn if you have anything edible in your yard or local park (likely, yes), then join Jennifer Sanders as we explore the world of edible wild plants. We'll learn about some common weeds you can eat and have time to share what's in your yard and ask questions.We"ll end the trip by enjoying a beverage prepared from Mother Nature's garden!
Price: $8.00 Registration Details
Nature
W 10am-Noon
14+

554

Glenville Lake Waterfall Boat Cruise Wednesday


Experience a private cruise with the only licensed and insured, US-Coast Guard, Master Captain aboard the largest luxury pontoon yacht on the highest alpine lake in the oldest mountains on earth! Guests will enjoy a 2-hour boat cruise along 15 miles of water. You will see some of the fantastic hidden waterfalls, which are only accessible by boat because they are surrounded by private property. Bald Eagles nest on the lake and we hope to see them. Lunch on campus. Drive time: 30 mins one way. This trip is also offered on Thursday.
Price: $110.00 Registration Details
Nature
W Noon-4:30pm
14+

510

Fly Fishing for Beginners


Fly fishing is an angling method in which an artificial "fly" is used to catch fish. The fly is cast by using a fly rod, reel, and specialized weighted line. Casting a nearly weightless fly or "lure" requires casting techniques significantly different from other forms of casting. SUUSI's resident expert Mark Harris has offered to teach the basics of this technique. Join him on the river for an afternoon of adventure. The water temperature will be cool. Be advised that there can be potentially challenging wading if water levels are high, and be prepared to swim if necessary. If you drop the trip after registration closes, the fishing license fee is non-refundable. Drive Time: 25 mins one way.
Price: $40.00 Registration Details
Nature
W 1-6pm
14+

552

Cherokee Bonfire and Storytelling (Family Friendly)


We'll go to the Qualla Boundary at the Oconaluftee Islands Park near downtown Cherokee, and join this popular community and family friendly event. Gather around a crackling fire and hear the Cherokee people tell their story. The program is designed to inform, enlighten and entertain. Guests are encouraged to ask the storytellers questions as part of this cultural experience. Benches are positioned around the bonfire circle, and during the break, marshmallows are handed out for roasting! Be advised this is a public event, and crowd size varies and can't be determined. Please arrive early to nature tent if you are bringing a child requiring safety seat. Just in case, ground cloth to sit on recommended. Drive time 30 minutes one way.
Price: FREE Registration Details
Nature
W 6:15-9:45pm
0+

553

Karaoke Anyone?


Loosen up for dancing at Serendipity, and join us for Karaoke night at the Paper Mill Lounge in downtown Sylva! Located within the beautiful McGuire estate, the lounge is elegant and eclectic with a relaxed vibe. Don't want to sing? Relax in one of the outdoor spaces and enjoy one of their thoughtful, fresh handcrafted cocktails or delicious food offerings. Visit the gardens! This is a good opportunity to get off campus for a night out.
Price: $22.00 Registration Details
Nature
W 8-10pm
21+
Thursday 21st July 2022

502

Mushroom Foray


There will be a short informational session of fungi facts on campus, followed by a foray into the wild for learning about the way to observe and collect mushrooms. Finally, retired Botany and Microbiology Professor Ernie Wilson will help us identify the specimens collected. Drive Time: 15 mins one way.
Price: $27.00 Registration Details
Nature
Th 8am-Noon
14+

505

Waterfalls Tour (Family Friendly)


An easy and mostly effortless way to get off campus and get your Nature on! There are some beautiful waterfalls in Highlands, NC. It is a long and winding road but well worth it to see some of the most picturesque waterfalls around. Bring your camera! Most of the waterfalls can be viewed from the van, but if time allows, we will be able to get out and walk around at some of the falls. Drive Time: 55 mins one way.
Price: $22.00 Registration Details
Nature
Th 9am-1pm
8+

546

Glenville Lake Waterfall Boat Cruise Thursday


Experience a private cruise with the only licensed and insured, US-Coast Guard, Master Captain aboard the largest luxury pontoon yacht on the highest alpine lake in the oldest mountains on earth! Guests will enjoy a 2-hour boat cruise along 15 miles of water. You will see some of the fantastic hidden waterfalls, which are only accessible by boat because they are surrounded by private property. Bald Eagles nest on the lake and we hope to see them. Lunch on campus. Drive time: 30 mins one way.
Price: $110.00 Registration Details
Nature
Th Noon-4:30pm
14+
Friday 22nd July 2022

529

Explore Highlands: Shop and Stroll


Shopping, Shopping, Shopping! Starting with a stop at Reclamations, a salvage yard to beat all salvage yards. Want a Cupola for your house, a 1967 Airstream trailer, antique hinges, bread mixing bowls, yard sculptures made out of hubcaps, and so much more? Just go to Reclamations. Then we move on to Highlands N.C. for a luxury shopping excursion with lovely outdoor restaurants for afternoon tea. On our return, we will stop for a few minutes at Bridal Veil Falls, which is stunning AND right off the road! Drive Time: 45 mins one way.
Price: $22.00 Registration Details
Nature
F 1-6:30pm
14+