Youth (0-10)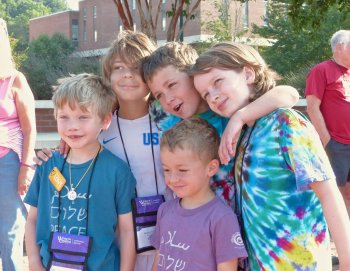 The Youth Program at SUUSI is the perfect place for your little lights to shine throughout the week. We will offer your child chances to learn, explore, create, and play. With art, music, tie-dye, class time, outdoor time and a wide variety of workshops, children will have plenty of chances to try new things. The SUUSI Youth Program is a great place for children to make new friends and long-lasting memories.
SUUSI Youth enjoy age-appropriate activities in a Unitarian Universalist environment. Guided by our principles and sources, children and adults will create a community of sharing and caring.
Please see this important information for all parents of Youth and Middlers on expectations for children and parents at SUUSI.
A Day in the Youth Program
Morning Check-In 8:45-9am
A parent/guardian must sign in their youth each morning. Please bring your child on time each day so they do not miss out on any of the fun. Please check with the age group leader to ensure your child has everything they will need for the day. Make sure to check text reminders each day.
Morning Programs: 9am-Noon
Each morning, children will participate in opening circle and then play cooperative games, make crafts, and enjoy outdoor time. Children between 4 and 10 will go to art, music, and tie-dye during the week. Music and art will come to the 0-3 year-olds' classroom.
Lunch: Noon-2pm
Children's programming ends at noon for a two-hour lunch break. If you like, you may pick up your child and accompany them to lunch in the dining hall. Youth Staff will stay in the classrooms until 12:15 to allow parents time to get to the Youth building from their morning workshops.
With permission, children ages 9-10 may sign themselves out at noon for lunch and sign themselves back in at 2pm. It is understood that these children will go immediately to meet their parent/guardian and must be properly supervised at all times outside of programming hours. Self-checkout is a privilege that can be taken away.
Afternoon Check-In 1:45-2pm
If your child left the Youth building to have lunch at the dining hall, a parent/guardian, responsible adult, or older sibling will need to sign them back in between 1:45 and 2pm. 9 and 10-year-olds with self-checkout privileges may sign themselves in.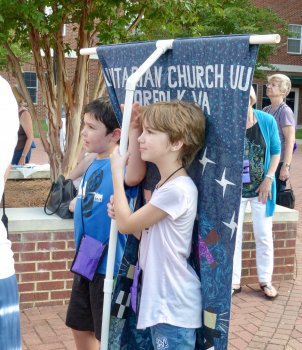 Afternoon Programs 2-4pm
The afternoons are filled with a wide variety of activities, including special mini-workshops for our 4 and 5 year-olds and splash time or playtime for the 0-3 year-olds.
Youth between ages 6 and 10 have a wide variety of workshops to choose from each day. These are listed in the catalog. Be sure to sign up when you register. There are no additional fees for youth workshops. Please note that some workshops may have early start times and/or alternate drop-off locations.
Afternoon Check-Out 4-4:15pm
Youth programming ends at 4pm every day and a parent/guardian, sibling, or responsible adult must check out all youth from programming each afternoon. Staff will stay until 4:15pm to give parents time to get to the youth building from their workshops. If you need to be later than that, please let us know ahead of time so we can have you meet your child in the Youth office.
Our Youth Staff
We have so much gratitude for our Youth Staff! We have staffers who return year after year and we have new staffers who grew up in the Youth Program and are now old enough to give back. There is a wide range of experience among our staff, including teachers, religious educators, social workers, parents, camp counselors, etc.
We are all focused on ensuring the safety and fun of every participant. We encourage you to get to know our incredible Youth Staff members.
Please take a moment to thank them for volunteering to work with your children for the week! If you have any questions, comments, or are interested in volunteering with Youth Staff, please contact the Youth Director, Charlotte Quandt, at youth@suusi.org.
Once you've arrived
Make sure to stop at the Youth Table at check-in on Sunday. We will have information about the week ahead. We will give you your children's nametags and meal bands (our youngest children do not get swipe cards; they enter the dining hall with wrist or ankle bands). You will also want to sign up for the Youth-specific text reminders.
Meet your staff at our open house on Sunday from 3- 4pm. All are welcome to drop by the Youth program building to visit the classrooms and meet the SUUSI Youth Staff.
A mandatory parent meeting will be held on Monday morning from 9-9:30am. Each youth must be represented by one or more parents/guardians.
Special Events of Note
Baby Dedication – Thursday pm – The Thursday evening worship will be focused on honoring the various stages of life, including dedicating children. If you want your child to be included in the baby dedication, please contact: nurture@suusi.org.
Youth Closing Circle – Friday 3:30pm – Parents, other family members and friends are invited to watch the children's end-of-week performances. The closing circle will take place at the youth program building, inside or outside depending on the weather.
Afternoon Workshops & Trips for 6-10 Year-Olds
Youth ages 6-10 will sign up during online registration for one afternoon workshop each day Monday-Thursday. Detailed information can be found below, and will also be available in Solis when you are registering.
Please make note of workshop age ranges, required items to bring, and those that require early drop-off or late pick-up.
Youth Parent Mandatory Meeting

Unlimited

At least one parent or guardian of Yout participating in SUUSI Youth programming must attend this meeting when dropping their Youth off the first day of SUUSI youth programming.

This workshop is an extra opportunity to make tie-dye creations. Beginners are welcome. You may bring three (3) 100% cotton items to dye; you will go home with directions for washing them. Be creative: try underwear, shorts, socks, etc., but no towels or sheets as they take up too much dye. Once we're finished with the dye, we'll learn how to tie special knots (square, slip, half, and more).

Registration Details

Create, Color, and transform your Slime creations. Share recipes and ingredient ideas! An afternoon of slime and science!

Registration Details

This workshop is an extra opportunity to make tie-dye creations. Beginners are welcome. You may bring three (3) 100% cotton items to dye; you will go home with directions for washing them. Be creative: try underwear, shorts, socks, etc., but no towels or sheets as they take up too much dye. Once we're finished with the dye, we'll learn how to tie special knots (square, slip, half, and more).

Registration Details

2: Hair and Body Art

Limit 12

Use your own hair and body as a canvas to create your very own designs. We will use all sorts of styles of creating art, for example: face and body paint, body glitter, nail polish,temporary hair color and more! You can also make friendship bracelets to take home or give to friends!

Registration Details

8: Hair and Body Art

Limit 12

Use your own hair and body as a canvas to create your very own designs. We will use all sorts of styles of creating art, for example: face and body paint, body glitter, nail polish,temporary hair color and more! You can also make friendship bracelets to take home or give to friends!

Registration Details

7: Magic Around Us!

Limit 10

There is magic in the world around us! Plants grow, watered by the sky and wind helps move seeds so that more plants will grow. As time has changed, we call this magic science. Let's explore the magic of the world around us! Spend the afternoon conducting experiments and exploring the magic of the world around us. This workshop will be inside and outside.

Registration Details

3: Outdoor Water Games

Limit 12

Head outside to enjoy some fun in the kiddie pools, or play water games using hoses, sprinklers, slip-n-slides, sponge balls, and other outdoor toys. You will get wet! Be sure to come wearing secure footwear that can get wet, a bathing suit, and plenty of sunscreen. Bring sunscreen, a water bottle, a dry towel, a plastic bag, & a change of clothes. We will be creating art after we dry off!

Registration Details

5: Outdoor Water Games

Limit 12

Head outside to enjoy some fun in the kiddie pools, or play water games using hoses, sprinklers, slip-n-slides, sponge balls, and other outdoor toys. Sponge relays, splash games, and obstacle courses. You will get wet! Be sure to come wearing secure footwear that can get wet, a bathing suit, and plenty of sunscreen. Bring sunscreen, a water bottle, a dry towel, a plastic bag, & a change of clothes.

Registration Details

Create, Color, and transform your Slime creations. Share recipes and ingredient ideas! An afternoon of slime and science!

Registration Details

Splish, splash, it's pool time! We'll have fun at the WCU swimming pool, then move outside at 3 to play water games. Wear your bathing suits and bring a towel, sunscreen, and clothes to change into afterwards. There will be a lifeguard on duty. **Begins at 1pm at the pool. We will return to the Youth building.

Create, Color, and transform your Slime creations. Share recipes and ingredient ideas! An afternoon of slime and science!

Registration Details

11: Magic Around Us!

Limit 10

There is magic in the world around us! Plants grow, watered by the sky and wind helps move seeds so that more plants will grow. As time has changed, we call this magic science. Let's explore the magic of the world around us! Spend the afternoon conducting experiments and exploring the magic of the world around us. This workshop will be inside and outside.

Registration Details

Pool Time! Bring your towel, swimsuit, and a change of clothes! Let's Swim!!

Registration Details

This workshop is an extra opportunity to make tie-dye creations. Beginners are welcome. You may bring three (3) 100% cotton items to dye; you will go home with directions for washing them. Be creative: try underwear, shorts, socks, etc., but no towels or sheets as they take up too much dye. Once we're finished with the dye, we'll learn how to tie special knots (square, slip, half, and more)

Registration Details

13: Outdoor Water Games

Limit 12

Head outside to enjoy some fun in the kiddie pools, or play water games using hoses, sprinklers, slip-n-slides, sponge balls, and other outdoor toys. You will get wet! Be sure to come wearing secure footwear that can get wet, a bathing suit, and plenty of sunscreen. Bring sunscreen, a water bottle, a dry towel, a plastic bag, & a change of clothes. We will be creating art after we dry off!

Registration Details

1049: Median/YA Pool Time

Limit 1

What's summer camp without a trip to the pool? There are 25 spaces open for YAs and Medians, pleas use the YA event to reserve a spot!

Registration Details