Adventure Trips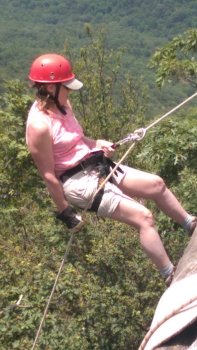 Adventure trips are just that – adventure! Mountain Biking at Tsali Recreation Area. Ziplining at the Asheville Outdoor Center. Mountain Biking, bike ramps, and a little BMX at KOLO Park. Zipline at Wildwater. Rappel off Pickens Nose in the Standing Indian Basin area. Rock climbing at the WCU climbing wall. Haven't hit on something you'd like? Try a relaxing bike ride along the Little Tennessee River. We have adventures waiting for you!
Adventure Difficulty Ratings
Please read the descriptions of difficulty levels carefully before signing up for Adventure Trips.
Gentle: Introductory level. Climbing, biking or fitness interest.
Challenging: Basic level. Some proficiency in climbing, biking or fitness required.
Strenuous: Advanced level. Above-average fitness. High proficiency in climbing, biking, or fitness required.
Requirements for Adventure Trips
Please read the requirements section for your Adventure trip. These are real, safety-based mandates. You will not be allowed to go if you arrive at the Nature Tent without the required gear, and in such cases, there are no refunds.
Water, snacks, sunscreen, raincoat, and bug spray are always a good idea for any nature trip. Our many years of experience, including occasional mishaps, have taught us that for your safety and your enjoyment you must read the requirements and abide by the rules. Please consider the difficulty ratings carefully when choosing a trip.
Requirements and Guidelines for Ropes Courses, Rock Climbing and Rappelling
There is a tremendous amount of rock climbing in the Cullowhee area. This is mostly a frictional climbing area with sloped, rough walls rather than the vertical rock we were used to in West Virginia. Spread your palms and balance on your toes. Many of the climbs are at or near mountain tops of very steep terrain so there are a variety of breathtaking views of the surrounding area! Come join us for a fantastic climbing experience!
Required and suggested equipment:
Shoes: If you have climbing shoes, bring them (good tennis shoes are also acceptable).
Full leather
1-2 quarts of
Proper Shorts and T-shirts are OK.
A tie for long hair is
Rain jacket is needed in this very rainy
Sunscreen and bug spray are also a good
A small backpack to carry your water
Requirements and Guidelines for Biking
Western NC is known for its mountain biking and is considered some of the best in the country. We have bike rides for every skill level again this year.
If you always have wanted to try biking off-road, join us for the Intro to Mountain Biking; it's a great opportunity to learn basic riding skills and then put what you learn into practice. The intermediate ride is for those with some biking experience; it has more single track, is a little longer, and leaders set a pace to match the group.
Required and suggested equipment:
Minimum one quart of water and a way to carry it (fanny pack, cycling jersey or camelback).
Helmet: bring your own or use the one
Closed-toed shoes (sneakers or running shoes work well).
Typical Nature trip stuff and a way to carry it (sunscreen, rain gear and a snack).
Safety glasses are not a bad idea, if you bring sunglasses they must be shatterproof.
Biking shorts and gloves are recommended.
Event #
Event
Type
Date & Time
Age Range
Monday 18th July 2022

821

Little Tennessee River Bike


Little Tennessee River Greenway is a five-mile, mostly flat, 13-foot wide, hiking and bicycling path that is quiet and friendly. The meandering path will take us through the Suli marsh, a butterfly garden, a historic steel suspension bridge, and a variety of wildflowers and wildlife. Bikes and helmets will be provided. An additional waiver is required for this trip. Please print the waiver, fill it out, and bring it to registration. For participants under the age of 18, a parent or legal guardian's signature is required. Drive Time: 60 mins one way.
Price: $63.00 Registration Details
Nature
M 8:30am-1pm
14+

804

Wildwater Zipline


What an adventure! Ziplines are a spectacular way to experience flight and enjoy the outdoors with an added element of adventure and excitement. A combination of trees and platforms with 13 zips and eight sky bridges combine for over 1/2 mile of high-flying fun. Waivers are required - please print the waiver, fill it out, and bring it to registration. For participants under the age of 18, a signature by a parent or legal guardian is required. The amazing experience is provided by Wildwater, Ltd in Bryson City, NC. Drive Time: 75 mins each way. This trip requires reservations 2 weeks in advanced, You can only signup for this trip ONLINE.
Price: $115.00 Registration Details
Nature
M 12:30-6pm
14+

808

WCU climbing gym


Western Carolina hosts one of the most extensive climbing programs in the East and the tallest collegiate wall in North Carolina. The Base Camp climbing wall offers 2100 square feet of climbing surface and is 50 feet tall. There are routes designed for the first-time climber as well as for the serious climber looking for a workout. An additional waiver is required for this trip. Please print the waiver, fill it out, and bring it to registration. For participants under the age of 18, a parent or legal guardian's signature is required. Please do not arrive late to check-in for this trip, you will walk over with the entire group. The gym is within walking distance from the Nature Tent.
Price: $20.00 Registration Details
Nature
M 4-6pm
14+
Wednesday 20th July 2022

822

Introduction to Mountain Biking


This trip will be in the Tsali Recreation Area. We do either the Mouse Loop or Thompson Branch Loop.
Price: $65.00 Registration Details
Nature
W 8:30am-1pm
14+

826

Zipline in Asheville


Come swing with us! Enjoy climbing, swinging, rappelling, and other challenges such as zip lines in a wooded setting. Asheville's Treetop Adventures is an hour's drive from WCU. A special waiver needs to be signed and brought to the trip. Anyone under the age of 18 is required to have the waiver signed by a parent or legal guardian. Drive Time: 60 mins one way. THIS TRIP REQUIRES NON-REFUNDABLE RESERVATIONS 2 WEEKS IN ADVANCE.
Price: $91.00 Registration Details
Nature
W 8:30am-1pm
14+

820

KOLO Bike Park


Want to mountain bike at SUUSI? Let's go to KOLO at Treetops Adventure in Asheville, where you can push yourself at your own pace. Your fee includes the rental of a single-suspension bike and helmet. Here you'll find about 4 miles of purpose-built mountain bike trails and features on rolling terrain. We like to think of it as a mountain-bike sampler pack. Designed for all rider levels, whether you're just learning, taking it easy, or looking to push your edge a bit, you'll find a taste of it at KOLO Bike Park. Key features include: a hand-built single track in wooded space, a machine-built flow trail with dirt berms and rollers, two pump tracks for beginner and advanced, wooden balance features and bridges, wooden step-down and gap jumps, a dirt jump area with jumps (ranging from easy to difficult), and a 180-degree wood berm. All of the trails and features at KOLO Bike Park are designed to be progressive. That means there are multiple ways to ride them, depending on your skill level, encouraging developing riders to advance their skills in a controlled environment. Please fill out the REQUIRED online waiver form at http://bit.ly/KOLOWaiver and bring it to check-in. Drive Time: 60 min one way.
Price: $77.00 Registration Details
Nature
W 8:30am-1pm
14+
Thursday 21st July 2022

811

Rappelling


At 4880', Picken's Nose stands high above the Standing Indian Basin. The mountain's multiple overlooks offer outstanding, sweeping views of the surrounding Southern Nantahala Wilderness. A moderate 3/4 mile hike leads to the rocky summit where we will set up several rappelling options. Bring a pack you'll need 2 quarts of water and lunch will be provided by WCU. Drive Time: 75 mins one way.
Price: $43.00 Registration Details
Nature
Th 9am-3pm
14+

809

WCU climbing gym


See Trip # 808 for details. A waiver is required.
Price: $20.00 Registration Details
Nature
Th 4-6pm
14+