Adventure Trips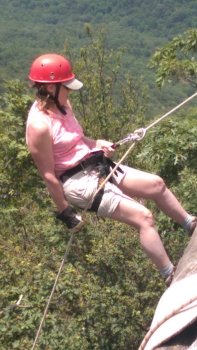 Adventure trips are just that – adventure! And they blend the line between the physical environment and human ingenuity. Choose your challenge in an aerial course in the trees with over 77 unique climbing, rolling, walking, jumping, swinging, and rappelling challenges. Get a Mountain Biking sampler-pack with 4 miles of purpose-built mountain bike trails and features on a rolling terrain, jumps tracks, and a skills park. Soar through majestic oaks with views of downtown Asheville reaching heights of more than 70 feet, and speeds of nearly 30 miles per hour! Or stay on campus and get your adrenaline going with a visit to the WCU rock climbing wall.
Adventure Difficulty Ratings
Please read the descriptions of difficulty levels carefully before signing up for Adventure Trips.
Gentle: Introductory level. Climbing, biking, or fitness interest.
Moderate: Basic level. Some proficiency in climbing, biking, or fitness is required.
Strenuous: Advanced level. Above-average fitness. High proficiency in climbing, biking, or fitness is required.
Requirements for Adventure Trips
Please read the requirements section for your Adventure trip. These are real, safety-based mandates. You will not be allowed to go on a trip if you arrive at the Nature Tent without the required gear, and in such cases, there are no refunds.
Water, snacks, sunscreen, a raincoat, and bug spray are always good ideas for any nature trip. Our many years of experience, including occasional mishaps, have taught us that for your safety and your enjoyment, you must read the requirements and abide by the rules. Please consider the difficulty ratings carefully when choosing a trip.
Requirements and Guidelines for Ropes Courses, Rock Climbing and Rappelling
There is a tremendous amount of rock climbing in the Cullowhee area. This is mostly a frictional climbing area with sloped, rough walls rather than the vertical rock we were used to in West Virginia. Spread your palms and balance on your toes. Many of the climbs are at or near mountain tops of very steep terrain so there are a variety of breathtaking views of the surrounding area! Come join us for a fantastic climbing experience!
Required and suggested equipment:
Shoes: If you have climbing shoes, bring them (good tennis shoes are also acceptable).
Full leather
1-2 quarts of water
Proper Shorts and T-shirts are OK.
A tie for long hair is required
A rain jacket is needed in this very rainy climate
Sunscreen and bug spray are also a good idea
A small backpack to carry your water
Requirements and Guidelines for Biking
Required and suggested equipment:
Minimum one quart of water and a way to carry it (fanny pack, cycling jersey, or camelback).
Helmet: bring your own or use a rented one
Closed-toe shoes (sneakers or running shoes work well).
Typical Nature trip stuff and a way to carry it (sunscreen, rain gear, and a snack).
Safety glasses are not a bad idea, if you bring sunglasses they must be shatterproof.
Biking shorts and gloves are recommended.