Music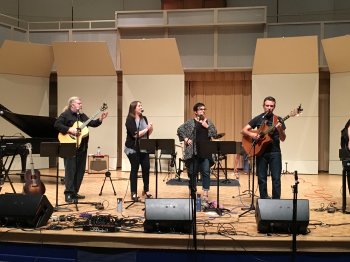 Many people say they come to SUUSI each year for the music, and it's easy to see why. There are opportunities to hear and play music at almost every hour of the day!
Concert Hour
Monday through Wednesday evening, from 8-9pm, enjoy concerts featuring the music of professional performing artists who generously share their time with SUUSI. See full information here.
Monday: Joe Jencks
Tuesday: Carla Ulbrich
Wednesday: Crys Matthews
Cabaret
Cabaret is our nightly live music venue. It's an intergenerational, multi-faceted, mixed bag of evening entertainment. All of the Cabaret performers, amateur and professional alike, are from our own SUUSI community. It's about musicians, poets, actors, dancers and instrumentalists. In short, it's all about YOU! To sign-up to perform at Cabaret, be sure to stop by the Nightlife table at check-in on Sunday or during Cabaret throughout the week!
Sunday: Open Mic Night – 9pm-Midnight
Sunday night is the start of Cabaret with our Open Mic night directly after Ingathering. You can share a song, dance a dance, recite a poem, tell a short story or a joke. You will need to sign up in advance for this, but it is easy to do at the Nightlife table at Check-In on Sunday. Poets, actors, singers, dancers, young, old, small, tall—all are welcome.
Monday through Thursday – 9:30pm-12:30am
Do you want to perform at Cabaret during the rest of the week? Many of those who perform on Sunday night at the open mic will be asked back to do sets during Cabaret on Tuesday, Wednesday or Thursday evening. Each night's schedule will be listed in the daily NUUS and posted outside the auditorium.
Friday: Jamboree – 10:15pm-12:30am
Another fine SUUSI tradition, Jamboree is a special performance time where two or more folks who have never performed together before do so for the first time on the Cabaret stage. It's also the time when workshops and classes get to perform. It's amazing what can get pulled together in less than a week!
Showcase of Stars
Do you wish that Cabaret could happen while the sun is still shining? Showcase of Stars offers the Cabaret experience to SUUSI's early birds. Structured as a workshop, Performers Circle features performances by many of SUUSI's finest professional musicians from 2-4 Monday thru Friday. Sign up for $15 for the whole week or fill in your open afternoons with music at $4 a day. The daily list of performers will be posted at the Cabaret door and printed in the SUUSI NUUS.
Late Night Song Circle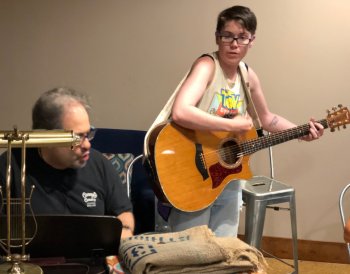 Where's everyone going? It's only midnight! Beginning at 12am and continuing until the wee, wee hours, Late Night is definitely worth staying up late for! If you can't get enough music, either as a performer or audience member, check out our alternate performing space. You'll be able to play with, sing with, or listen to other musicians on campus. All you need to do is show up!
Bookstore Singing and Signings
Watch the SUUSI NUUS for information about daily singing and autograph signing sessions in the SUUSI Bookstore. Listen to your favorite SUUSI performers in a smaller, more intimate setting and purchase one of their CDs to take home so you can surround yourself with the SUUSI spirit year-round!
Music Workshops
SUUSI isn't just a place to listen to the music of others. It's a place to develop and deepen your own musical skills as well. Our SUUSI musicians offer workshops in folk songs, African drumming, vocal technique, and more. Join the Little Sing choir. Check the catalog for the complete listing of this year's offerings.
Music for Worship
Each morning and evening worship service includes music offered by members of the SUUSI community. We invite you to participate. If you are interested, email your SUUSI worship planners at nurture@suusi.org.