Housing & Dining
Dining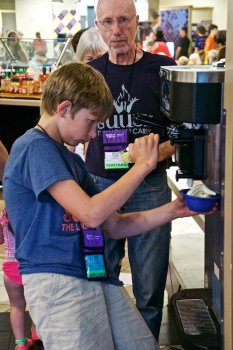 Meals at SUUSI will be provided in the dining facilities of Western Carolina University. The first meal is dinner on Sunday night (before Banner Parade and Ingathering) and the last is breakfast on Saturday morning. SUUSI staff work closely with the food services staff at WCU to try to assure a sufficient variety for any special dietary needs, which can be noted when you register for SUUSI.
The dining room is open from 7am to 8pm.
The dining hall can be crowded at peak dining hours—we encourage you to dine early or late if your schedule and body permit it. Pre-packed boxed lunches are available for carry-out, and there is also an option to rent a "bento box" for the week so that you can take your meals outdoors.
For information about allergies and sensitivities, please go to Accessibility.

If you have questions or concerns, contact us at dining@suusi.org.
Housing Options
When you register, you will be given several choices of housing options to choose from.
Here's a quick guide to making the right choice for you and your family.
Families with Children
Families with children age 13 and under must choose either the Child Care Co-op or Family (Non Co-op) housing.
Teens
Teens (ages 14-17) may choose to stay in the Teen Dorm, where they will be housed in a room with another teen of the same gender. Teens can request a roommate or a roommate will be assigned. Teens are not required to live in the dorm, but teens not living in the dorm must be housed with their parent(s)/guardian(s) in family housing (either in the co-op or not). Teens staying in family housing are required to purchase a bed, and must be under the parent/guardian's supervision during curfew hours (1-6am).
Young Adult & Median Housing
Young Adults (ages 18 to 25) can choose to stay in the Young Adult Dorm. Anyone between 18 and 25 is welcome to participate in Young Adult activities, whether or not you are staying in Young Adult housing.
The Medians were created as an age-inclusive extension of the Young Adult program. It is a space for people ages 21-and-up who root their SUUSI experience in fellowship and shared experiences.
Nature Staff
The Nature Staff Dorm is for people who are on Nature staff and their families. The Nature staff will be housed within one of the adult dorms.
Adults
All SUUSI participants ages 18 and up may choose to live in an Adult Dorm, as long as they are not accompanied by a child under 14. We are not designating quiet and loud spaces this year; all dorms are expected to adhere to guidelines for a respectful community. New this year, you will have the opportunity to sign up for Intentional Community housing, in which you will be matched with others interested in forming closer connections with their dorm neighbors.
Off-Campus Housing
Of course, you are also welcome to make arrangements for your own housing in a hotel or a campground. If so, when registering, just note that you are staying off campus & we will not assign housing for you.
Internet & Phone Access
WCU has free wireless Internet access in the buildings, and some places outside, too. SUUSI's technology services staff has been working with WCU on connectivity issues; we have found WiFi service unreliable at times (summer is when they do a lot of maintenance on their systems). There are no phones in the rooms, so bring a cell phone and hope your carrier has coverage. In our experience, AT&T and Verizon work fairly well and other carriers are hit or miss. Cullowhee is fairly remote, which is awesome for getting away from it all with your SUUSI friends, since you might not have the level of connectivity you are used to.